Avery Willis To Be Honored At March 4 Event
January 20, 2010
Global missions leaders will gather to honor the ministry of longtime outreach strategist Avery T. Willis Jr. during a special event titled "Avery T. Willis: Tribute to a Vision" on Thursday, March 4, at Oklahoma Baptist University in Shawnee.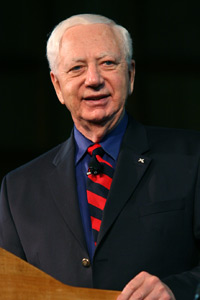 Dr. Willis addressed OBU students during a Chapel service on campus last spring.
The evening will begin with a reception at 5:45 p.m., followed by a banquet at 6:30 p.m. Hosted by OBU President David W. Whitlock, the banquet will feature International Mission Board President Jerry Rankin as the keynote speaker. Dr. Tom Elliff also will speak during the event. Elliff served as the board's senior vice president for spiritual nurture and church relations, having served as a pastor for 42 years.

Dr. Willis, a native of Lepanto, Ark., graduated from OBU in 1956 and has maintained close ties to his alma mater. The university's Global Outreach Center is named in his honor.

"Avery Willis is a shining example of what God can do with a life wholly dedicated to Him," Whitlock said. "We are grateful that he is part of the Oklahoma Baptist University family and proud that OBU is his alma mater. Through the years, Dr. Willis has challenged OBU students to take a step of faith and trust God to fulfill His promises. God has honored that challenge and called hundreds of our students into full-time missions. We look forward to this opportunity to recognize the on-going work and ministry of Avery Willis."

In early January, Willis, 75, announced that he has been diagnosed with leukemia. He currently is undergoing treatment at M.D. Anderson Cancer Center in Houston, Texas.

Willis retired from the International Mission Board as senior vice president for overseas operations in 2004. An Arkansas native, he is a 1956 OBU graduate. He and his wife, Shirley, served as missionaries to Indonesia for 14 years before returning stateside in 1978. He earned master of divinity and doctor of theology degrees from Southwestern Baptist Theological Seminary in Fort Worth, Texas. He has received honorary doctorates from OBU and Southwest Baptist University in Bolivar, Mo.

Willis said early in his college career he had to choose what kind of Christian commitment he would make for his life.

"Either I would really count myself to be a disciple of Christ, or I'd be a mediocre Christian for the rest of my life," he said in 1995. "I'm just an ordinary guy, but I've stood and watched God do everything he said he was going to do."

Linking a tradition of global involvement with Willis' visionary leadership, OBU formed the Avery T. Willis Center for Global Outreach in 2005. The center was designed to unify academic study and hands-on field experience related to missions. It provides a structure for OBU students and alumni to benefit from Willis' vision and experience. During the 2005-06 academic year, Willis served as OBU's Herschel H. Hobbs Scholar-in-Residence, providing hands-on leadership during the initial year of the center's operation.

Widely known for his work in creating the MasterLife discipleship materials, Willis headed adult discipleship programs for LifeWay Christian Resources from 1978 until 1993 when he moved to the IMB's administrative staff. After retiring to Bella Vista, Ark., Willis has continued active work in missions, traveling internationally approximately 25 weeks per year. He has served as a consultant to the Southern Baptist Convention's Great Commission Task Force. He also has served as a consultant to missionaries, as well as chairman of Epic Partners, a coalition of global missionary organizations, including the IMB, Wycliffe Bible Translators, Campus Crusade for Christ and Youth With A Mission.

Willis is currently executive director of the International Orality Network, a partnership of major missions organizations committed to using oral strategies such as "chronological Bible storying" as a means of evangelizing and discipling the approximately 70 percent of the world's population which is functionally illiterate.

In 2009, Willis and his grandson, Matt Willis, a 2005 OBU alum, announced the release of their book, "Learning to Soar: How to Grow through Transitions and Trials." Published by NavPress, the book was written to help readers discover incredible blessings in unpleasant circumstances, leave established comfort zones, respond to God's stirrings, risk trusting God and stepping out into abundant living, and soar to unimaginable heights with God, by faith.

Willis maintains a Web site with information about his life and ministry at www.averywillis.org.

Tickets for the March 4 event are $20 each. The reservation deadline is March 1. To make a reservation for the "Avery T. Willis: Tribute to a Vision" event, call (405) 878-2706.