Student Leads Team in Making 205 Quilts for Seniors
December 11, 2009
There is a certain level of care that goes into sewing something. Consider quilts: Meticulously weaving the thread in and out, knowing that with every stitch, a little piece of you is finding its way into the quilt. Think about your favorite quilt - the one you pull out in the winter. There is just something special about it. There is thought to it. There is probably a story to it, too. And then, there is the care that went into making it.

Patty Hasbell cares. She cares about people. An Oklahoma Baptist University senior mathematics education major from Shawnee, Okla., Hasbell expresses her care by making quilts for local senior citizens.

"I have wanted to make quilts for senior citizens since I started sewing at 9 years old," Hasbell said. "I felt it was a calling to take care of the individuals that took care of us as children and taught us the fundamentals of history and the stories of the old days."

Hasbell doesn't just make quilts for senior adults - she makes hundreds of lap quilts for senior adults. Hasbell is quick to point out, though, that the quilt-making process is a team effort.

"I have great friends and family," she said. "I also volunteer to two quilters in town, and they help me get donations to make the quilts. For this year's quilts, the materials were all donated to my cause. We completed 205. Last year I only made 68."

Hasbell's team of quilt makers includes four generations of her family: her son, Tyler, a sophomore at Shawnee High School; her mother, Patricia Welch; her grandmother, Mavis Moore; and herself. The Eagle Class at Gordon Cooper Technology Center, where Hasbell serves as math instructor, tied 101 of the 205 quilts in two hours.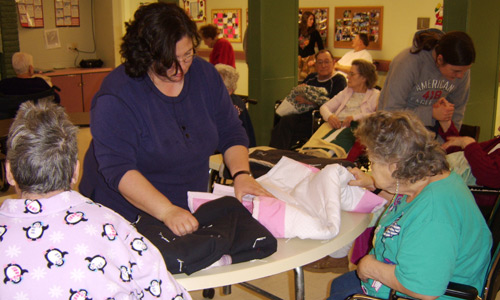 Patty Hasbell (center), an Oklahoma Baptist University senior from Shawnee, Okla., distributes some of the 205 lap quilts she helped make for local senior citizens at Shawnee Care Center.

The quilts were distributed to senior citizens at both the Shawnee Care Center and the Golden Rule Home in Shawnee on Dec. 7 through Age 2 Age, an OBU ministry that meets every Monday at 6 p.m. The ministry is part of OBU's Avery T. Willis Center for Global Outreach. Through Age 2 Age, OBU students spend time with the residents of local care centers to build relationships. Every other week, the students lead worship services for the residents.

The Dec. 7 quilt distribution project included Habell's son, Tyler, and her fellow OBU students, Amanda Abernathy, a junior from Oak Ridge, Tenn.; Matt Baker, a freshman from Rowley, Okla.; Bethany Burke, a sophomore from Dallas, Ore.; Johnathan Flowers, a sophomore from Irving, Texas; Tosh Miller, a freshman from Piedmont, Okla.; and Caleb Willis, a senior from Krum, Texas. Flowers, Miller and Willis provided musical entertainment for residents during the evening.

Hasbell said making quilts for others brings her joy. She knows her calling, and she lives it.

"My most rewarding moment of all is to see the expressions on the individuals' faces when they receive them, and I know how much they enjoy them," said Hasbell.

For more information about the ministries of the Avery T. Willis Center for Global Outreach, go online to www.okbu.edu/go.