Grads Reminded To 'Commence' Work
December 20, 2009
As they celebrated Commencement ceremonies, 57 Oklahoma Baptist University graduates were urged to begin reshaping the world during the university's graduation exercises Friday afternoon, Dec. 18, in OBU's Raley Chapel.
For chapel messages, follow this link.

"Commencement is not an end," said Dr. Emerson Falls, president of the Baptist General Convention of Oklahoma, as he delivered the Commencement address. "It is a beginning."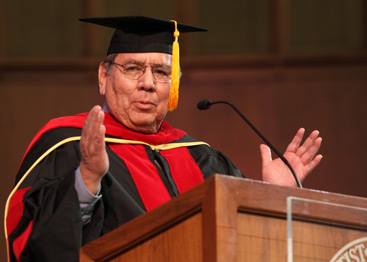 Falls encouraged graduates to "commence" learning, working, making a difference.

Falls, pastor of Glorieta Baptist Church in Oklahoma City, urged the graduates to start working in three specific areas: learning, working, and making a difference.

"You have learned how to learn," he said. "Today, knowledge comes with an expiration date. Graduates, you are so relevant. You are so up-to-date, but what you know today will be obsolete tomorrow. Knowledge will continue to increase. You are going to have to grow.

"You can't help growing old. None of us can. But you don't have to grow old and be irrelevant. Keep learning."

The Native American pastor also told graduates that Commencement meant they must "commence to work."

"The future is not fixed," Falls said. "It is fluid. It is changing, and it is waiting for you to hammer it into shape.

"I am confident that you are going to pick up a hammer and you are going to go to work," he said. "When you pick up a hammer and you start to reshape (the world), I'm probably not going to like it because it will be out of my comfort zone. But hammer away, and make it what you want it to be so you can hand it off to the next generation."

"Commence to make a difference," Falls challenged the graduates, encouraging them to ask "Why not?" when facing obstacles.

"The problem that holds us back is not external, because we can conquer the external problems," he said. "The problems that hold us back are the internal ones.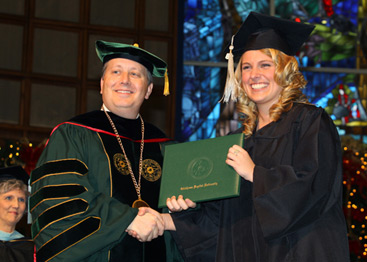 OBU President David W. Whitlock presents a diploma to Shawnee resident Kathryn Burg, a strategic communications major.

All of us commence our lives with dreams and visions, but soon we encounter the inertia of the practical. Soon our dreams and visions give way to the practical inertia of life. We become so busy making a living that we stop dreaming." Citing Psalm 23:1, Falls told the graduates to follow God's plan for their lives, as sheep follow a shepherd.

"If the Lord is my shepherd, what follows is as natural as night following day - and that is that 'I shall not want,'" he said. "He is the one who gets us through this life so that we achieve what is really important and what really matters.

"If you will allow the Lord to be your shepherd, one day when you are reminiscing with old friends you won't have many regrets.

"Live in such a way that you make yourself proud, but also live in such a way that you make your family and your friends proud. Most important of all, live to make the Lord proud," he said. "Pick up your hammer and go build."

Dr. Anthony Jordan, executive director-treasurer of the Baptist General Convention of Oklahoma, told the graduates Oklahoma Baptist churches have invested more than $2.7 million in OBU every year the students have attended the university.

"We are proud to do so, and we are proud of you," Jordan said. "You have been taught by some of the great minds in this state and by people committed to Jesus Christ. They have exemplified before you the commitment that I hope you will take from Bison Hill."

OBU President David W. Whitlock charged the class to remember that they carry the distinction of being OBU graduates.

"Your faculty has sought to instill within you an honest awareness of yourself and the world around you," Whitlock said. "We have sought to equip you with the ability to think with a knowledge base that provides content for sound decision-making. We have sought to impart to you the heart to care and the spirit to attempt great things that will make your world a better place."

Four graduates achieved the scholastic predicate Summa Cum Laude for maintaining at least a 3.95 grade point average on all work offered for their degrees. They are Kaleen Marie Connell, an art major from Mustang, Okla.; Erica Christine Dumey, a Spanish education major from Ellisville, Mo.; Amanda Nikole Hutchens Hamilton, an elementary education major from Sapulpa, Okla.; and Gina Michelle Overstake, a religion major from Wichita, Kan.

In addition to honoring students completing bachelor's degrees, the ceremony included recognition of five graduate students who have completed master of business administration degrees from OBU's International Graduate School. The MBA degree graduates were honored at a hooding ceremony Friday morning in OBU's Geiger Center.