International Missionaries Serve Students
November 2, 2009
Chuck Barrett and his wife of 26 years, Alicia, are partnering with Oklahoma Baptist University this academic year as part of the Missionary in Residence program. The couple hopes to bring lessons of a life in African missions to Bison Hill. December marks the 16th year the Barretts have served as full-time missionaries through the Southern Baptist International Mission Board.

Barrett is from Columbus, Kan. He received his bachelor's degree from the University of Northern Colorado and his master's degree from Midwestern Baptist Theological Seminary in Kansas City, Mo. Mrs. Barrett was born in Pueblo, Colo., and attended the University of Northern Colorado in Greeley. During her time at OBU, she plans to complete work toward her bachelor's degree in pre-counseling.

The Barretts were appointed as missionaries in 1993. They spent the first eight years of their missionary service in Malawi, Africa. Since then, they have worked with the people groups in Johannesburg, South Africa.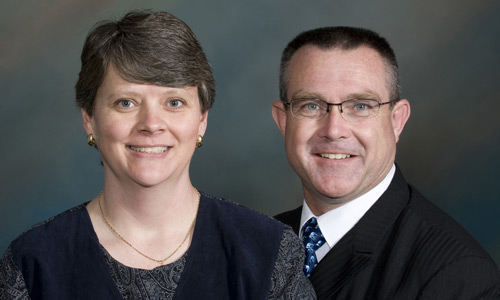 "Chuck and his wife, Alicia, have a burning desire to encourage current missionary kids (also called 'Third Culture Kids') on the OBU campus," said Dale Griffin, dean of spiritual life. "Chuck is also playing an important role as a mentor and team leader for the men's ministry at OBU called 'The Journey.' In the classroom, men's ministry and home, Chuck brings a heart filled with good humor and insight.

"The Missionary in Residence position provides students with an opportunity to speak directly with an experienced missionary," Griffin said. "Speaking with a Missionary in Residence is the closest thing to visiting the field without purchasing an airline ticket."

While serving in Malawi, the Barretts partnered with Oklahoma Baptists, and through that partnership they learned about the Missionary in Residence program OBU offers. After receiving the position, they said they were eager to get started because they enjoy a wide variety of ministries.

Often, Barrett said, he finds his own plans being altered by God's, and he believes those are divine opportunities to serve others.

"I love people, and I find many times the 'ministry of interruption' to be the greatest times for ministry to take place," Barrett said. "A sensitivity to the leading of the Holy Spirit is greatly needed and advised in these situations."

As Missionary in Residence, Barrett assists Dr. Bob Dawson, WMU professor of missions and professor of applied ministry, in his cross-cultural ministry classes. He also hopes to get involved in the "Third Culture Kids" ministry while at OBU. Third Culture Kids, or missionary kids, are students whose parents are missionaries.

"We are available to answer questions for anyone who would want to pursue a career in missions or has any curiosity in missions," Barrett said. "I hope to be an instrument for spiritual renewal at OBU."