Dr. Katherine Rader Inducted into Hall of Fame
November 3, 2009
Dr. Katherine Rader, a former Oklahoma Baptist University faculty member, was posthumously inducted into the Oklahoma Higher Education Hall of Fame Oct. 27. Dr. David W. Whitlock, OBU president, accepted the award on behalf of Rader and OBU.

Born in 1915, Rader earned her bachelor's, master's and Ph.D. degrees from the University of Oklahoma while concentrating on English literature. The daughter of long-time OU librarian Jessie Lee Rader, she was employed at Northwestern State College as a reference librarian and later as a member of the English Department.

Rader was hired in 1944 at OBU, where she spent the bulk of her career. She was well known on Bison Hill for stimulating excitement about intellectual pursuits as well as thinking critically and imaginatively. She became famous for her teaching. Her classes were filled to capacity, and her students were always well prepared.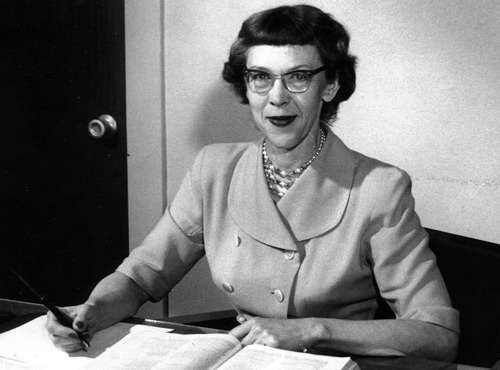 She sought intellectual outlets for her students and founded the OBU chapters of Alpha Lambda Delta (national honor society for freshmen women), Sigma Tau Delta (national honor society for English majors) and Mortar Board. In 1955 she became full professor, and in 1962 she received the OBU Professor of the Year Award. She served as chair of the English Department twice and also served as chair of the Division of Languages and Literature.

"Although I did not know Katherine Rader, her impact on the campus of Oklahoma Baptist University remains vital," Whitlock said. "Honor societies (at OBU) flourish today because of her efforts. ... Qualifying English majors today enjoy membership in nationwide, honorary Sigma Tau Delta, but only because of Dr. Rader's hard work and persistence in holding the banner of excellence before her students."

Whitlock said Rader was known as "demanding but always fair," "a model of scholarship" and "a woman of great integrity combined with compassion."

"Her impact radiates far beyond the OBU campus in Shawnee, Okla., today because her students include university presidents, authors and Fulbright professors; medical doctors, surgeons and nurses; sports Hall of Fame inductees and Little League coaches; missionaries in highly developed and under-developed countries; scientists working in both open and highly classified labs; and mothers, grandmothers, dads, grandfathers and many singles who, like her, have accepted her challenge to strive for excellence in all they think, say and do," Whitlock said.

Rader retired from OBU in 1967 then taught at the University of Central Oklahoma until 1980. During her career, she also taught briefly at Northeastern Oklahoma State University and Southwestern Oklahoma State University. She died in October 2005.

Rader is the sixth OBU faculty member or administrator to be inducted into the Hall of Fame. The honorees include: Dr. John Wesley Raley, OBU's eighth president from 1934-61, inducted in 1996; Dr. Bob R. Agee, OBU's 13th president from 1982-98, inducted in 1999; Juanita Granger Millsap, a nursing professor and one of the founders of OBU's nursing program, inducted in 2000; Dr. James E. Hurley, professor of biology, inducted in 2003; Dr. Warren M. Angell, dean of the Warren M. Angell College of Fine Arts, inducted in 2005; and Dr. Rader.