Bison Hill Sees Enrollment Increase for Fall Semester
November 3, 2009
Oklahoma Baptist University OBU saw enrollment increase for the 2009-10 academic year, with a total of 1,764 students enrolled for the fall semester. That is a slight gain over the fall 2008 headcount of 1,753 students.

The total enrollment includes 368 first-time freshmen and 139 transfer students. The average ACT score for first-time freshmen was 23.5.

"We are pleased that enrollment is up on our campus this fall," said Bruce Perkins, director of admissions. "These are challenging economic times for many people, and we recognize that parents and students have a choice regarding their higher education options. The fact that many have chosen to remain at OBU and others have chosen to enter OBU for the very first time speaks well of the trust they place in our university due to our reputation and the success of our graduates."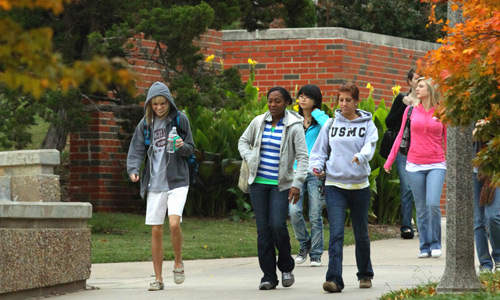 Perkins said the university's retention rate, which is the percentage of eligible students who chose to continue studying at OBU, rose from 86 percent in 2008 to 89 percent in 2009.

The enrollment included 1,497 full-time undergraduate students. Full-time students are enrolled in at least 12 credit hours for the semester. The total number of full-time students was up from 1,467 in the fall of 2008.

The totals included 55 students enrolled in OBU's International Graduate School, which operates in downtown Oklahoma City, and 136 off-campus students who study through OBU's Ministry Training Institute. Thirty-nine students are studying through OBU's Intensive English Program.

The overall headcount includes 1,065 students from Oklahoma, a slight increase over 1,055 last year. Oklahomans account for 60.4 percent of the enrollment. In-state students come from 67 of Oklahoma's 77 counties.

OBU students represent 39 states and 14 other countries. There are 265 students from Texas, comprising 15 percent of the student body. A total of 603 students are from other states, and 80 - 4.5 percent - are from other countries.