Whitlock Presents Life, Literature, Legacy of J.M. Gaskin
October 13, 2009
In 1954, Dr. J.M. Gaskin was sitting in Oklahoma Baptist University's library doing research for his book, "Trail Blazers of Sooner Baptists." OBU librarian Lee B. Spencer spotted Gaskin and announced, "There is Mr. Oklahoma Baptist History." The name stuck, and even today at age 93, Gaskin is known by the moniker.

On personal request of "Mr. Oklahoma Baptist History" himself, OBU President David W. Whitlock presented the 18th annual J.M. Gaskin Lectures in Baptist History and Heritage on the university's campus Oct. 12. The title of his lecture was "J.M. Gaskin - Oklahoma's Baptist Historian: His Life, Literature and Legacy."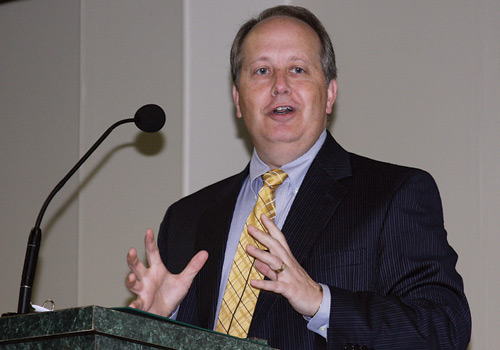 Whitlock is a personal friend of Gaskin, whom he first met at a gas station in Durant, Okla. Filling his gas tank, Whitlock looked up and recognized the man he had been reading about in the historical archives of Durant's First Baptist Church. Gaskin served as pastor of the church from 1962-76.

Within a few minutes of meeting, Gaskin began recounting the history of Whitlock's grandfather and great-grandfather, both who had served as pastors in Oklahoma Baptist churches. A few weeks later, the historian mailed Whitlock a cassette recording containing an interview Gaskin had conducted with Whitlock's great-grandfather, A.F. Whitlock. Today, Whitlock has the recording digitally preserved.

"Thus began a lifelong friendship with, and admiration for, Dr. J.M. Gaskin," Whitlock said. "And thus began my own deep appreciation for our history as Baptists and, in particular, as Oklahoma Baptists.

"My hope is that as a result of our lecture this morning, each of us and in particular our students will leave with a renewed sense of appreciation for where we have been as Oklahoma Baptists. For only in knowing where we began can we fully appreciate our current condition and envision the future that God has planned for us."

J.M. Gaskin: His Life



Jesse Marvin Gaskin began his life on Sept. 30, 1917, on a farm near Spiro, Okla., in LeFlore County. He was the first of five children born to Franklin Raymond Gaskin and Lola Richardson Gaskin. As a young man, he attended a Methodist church, but in 1935 he became a Baptist. He was baptized at First Baptist Church, Keota, Okla., in 1935.

Gaskin was ordained to the Baptist ministry in 1936 at Cartersville, Okla. In 1938, he moved to Crowder, Okla., where, as a senior in high school, he assumed the pastorate of First Baptist Church. He fell in love with the pianist, Helen Isom, who was also a senior in high school. They both graduated that year and married on Aug. 15, 1938.

Continuing his education, Gaskin earned a bachelor's degree at Oklahoma Baptist University in 1944. He completed a four-year extension course with Crozer Theological Seminary in 1947 and was awarded the doctor of divinity degree by the Oklahoma School of Religion in 1958. In 1959, OBU awarded the alum an honorary doctor of divinity degree.

Gaskin led in forming the Oklahoma Baptist Historical Commission in 1952 and was elected as the organization's first historical secretary in 1953. He was founding president of the Oklahoma Baptist Historical Society in 1956. He founded and edited "The Oklahoma Baptist Chronicle" for 40 years (1958-98). In 1976, Gaskin was employed by the Baptist General Convention of Oklahoma as the first director of history for the Historical Commission. He took full retirement in 1998, when he was named Historical Secretary Emeritus.

Whitlock shared the contributions Mrs. Gaskin made to her husband's concerted efforts in recording and reporting Oklahoma Baptist history. Though Robert Jackson, a member of the Historical Society, indexed the first 16 volumes of the Chronicle, Mrs. Gaskin incorporated his work into an index of volumes - No. 1 through 20 - and prepared an additional index of volumes 21-25. She indexed the Chronicle through 1982, writing down the subjects and names of every person on every page and then arranging them in alphabetical order with volume and page reference.

The Gaskins have one son, Franklin Ray Gaskin, who serves as a professor at Southeastern Oklahoma State University in Durant. They have two grandchildren and are expecting their first great-grandchild in the coming months.

In addition to his pastorate at First Baptist Church, Durant, Gaskin served in several pastorates and 15 interim pastorates. He served as pastor of Fairview Church, Earlsboro (1939-42), First Baptist, Coalgate (1942-44), First Baptist, Tonkawa (1944-53) and First Baptist, Heavener (1953-62).



J.M. Gaskin: His Literature



"Gaskin is probably better known for his prolific pen and trustworthy manual typewriter than for anything else," Whitlock said. "No serious research or work on the history of Baptists in Oklahoma is possible without a literature review that is replete with references to the contributions of J.M. Gaskin."

Gaskin's bibliography includes more than 21 books, from "The Sage of the Hills," published in 1949, to "Sights and Sounds of Falls Creek" in 1980, to "Cartersville, Route 1: History, Autobiography, Legend and Lore" in 1999.

"The old adage that the pen is mightier than the sword would suggest that Dr. Gaskin has indeed been a man who has exercised significant influence through his lifetime of writing," Whitlock said. "The pen of J.M. Gaskin has been prolific."

Whitlock noted Gaskin's tenure as editor of "The Oklahoma Baptist Chronicle" spanned five decades - the 1950s, '60s, '70s, '80s and '90s - a feat not likely to be repeated.

"The considerable pages and volumes of 'The Oklahoma Baptist Chronicle' stand as a testimony to his love of and dedication to our history as a Baptist people," Whitlock said.

"Although his works are prolific, and his contributions to Oklahoma Baptist profound, Dr. Gaskin is often overlooked for his deep understanding, appreciation and even vision for the controversies and challenges facing the Southern Baptist denomination."



J.M. Gaskin: His Legacy



Whitlock said to summarize the legacy of Gaskin was a formidable task that could easily encompass the entire lecture. The Gaskin Lecture itself, Whitlock noted, is part of his legacy.

Friends of Gaskin and advocates of the preservation of Oklahoma Baptist history and heritage established the J.M. Gaskin Lectureship, beginning with the inaugural address, "Building a Denomination" delivered by J.M. Gaskin in 1992. The objectives of the lectureship are to provide and sustain a series of lectures, which will preserve and promote the study of Oklahoma Baptist history and heritage. The lectureship recognizes his contributions to the preservation and promotion of Baptist History and Heritage.

"Every time a lecturer speaks through this series, every time we are challenged to remember the people and events that have shaped who we are today, every time we are challenged to rethink and reconsider the good, the bad and the ugly of our history, we are in a very real way celebrating the legacy and life of J.M. Gaskin," Whitlock said.