Saturday in the Park' Draws 500-Plus Students
September 30, 2009
More than 500 college-age students attended the fifth-annual "Saturday in the Park," a day-long back-to-school celebration on Aug. 29, hosted by Oklahoma Baptist University Campus Ministries.

Most of the students attending represented OBU, although students from at least three Baptist Collegiate Ministry groups attended from other universities. The free event was held in Woodland Park in downtown Shawnee.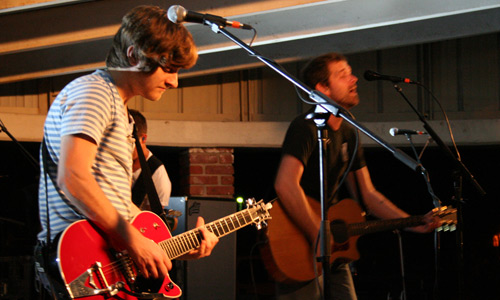 "The opening act, Price Hill Band, presented an energetic opening with worship songs and a youthful flair all their own," said Dale Griffin, OBU dean of spiritual life. "Afshin Ziafat presented a portion of his personal testimony and added a strong call to follow Christ in every area of life.

"The Robbie Seay Band opened their act with their own version of the Beatles 'Hello.' That opening set the tone for the rest of the evening: a delightful, fun and worship-filled evening intended to exhort and encourage students at the beginning of a new academic year."

Radio stations K-LOVE and The House FM were both present for the event. KIRC also helped promote the event. Tinker Federal Credit Union provided water, Shawnee-area Sonics provided the buns for the hot dogs, and Aramark donated the hot dogs.