Bicycle Classic Benefits Shawnee Habitat
September 28, 2009
More than 160 pedalers participated in the Ninth Annual Bison Bicycle Classic on Saturday, Sept. 26, which benefitted the Shawnee chapter of Habitat for Humanity. The event was hosted by Oklahoma Baptist University's Division of Music.


Participants rode 50-mile, 25-mile or 10-mile courses, and 40 riders participated in the BBC 50-mile race. Jamie McCoy from Jenks won the Men's Division in a time of 2:02:09, followed closely by second-place finisher Raton Parmain from Tulsa, and Mason Mattocks from Edmond. In the Women's Division, Gina Kraft from Shawnee won in a time of 2:12:41, with Donna Rice of Oklahoma City in second place and Tamie Sanders of Edmond in third place.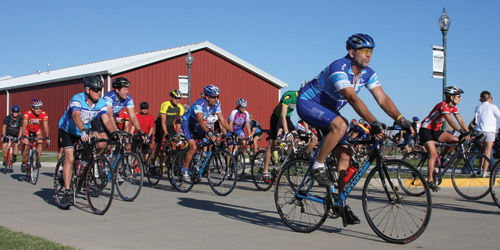 A complete listing of race results is available on the Bison Bicycle Classic Web site.


Sponsors for the 2009 Bison Bicycle Classic included the OBU Division of Music, The Bicycle Shoppe, Pott Pedalars Racing Team, Aramark, Christian Motorcycle Club of Shawnee, The City of Shawnee, Dave's Donuts, L&H Janitorial Service, Michael Cappo Farmer's Insurance, Shawnee Police Department, Pottawatomie County Sheriff's Department, Precision Physical Therapy, Tony Fitzgerald Engraving, Unity Health Center and Webber's Graphics. Local businesses and churches which hosted rest stops for the event included Blackburn Chapel, Country Cottage Primitive Lavender Farm, 4-Way Automatic Transmission and South Rock Creek Baptist Church.


The event raised about $2,000 for Habitat for Humanity of Shawnee, Inc. Habitat for Humanity International is an ecumenical Christian ministry that welcomes to its work all people dedicated to the cause of eliminating poverty housing. Since its founding in 1976, Habitat has built more than 300,000 houses worldwide, providing simple, decent and affordable shelter for more than 1.5 million people. 


The 10th annual Bison Bicycle Classic is tentatively scheduled for Saturday, Sept. 25, 2010. For more information, visit the Web site, contact the OBU Division of Music at (405) 878-2305 or e-mail music@okbu.edu.