Alum Leads 'Metro 50' Advertising Company
September 25, 2009
Creativity is a trait appreciated by most people. The ability to take something commonplace and turn it into something extraordinarily special and unique is a gift. Creativity signifies imagination at work. For Oklahoma Baptist University alum Doug Farthing, creativity is the foundation for his business, recently named a "Metro 50" company by the Oklahoma City Chamber of Commerce.

Farthing, a graduate of the Class of 1994, is a co-founder of Insight Creative Group (ICG), a full-service advertising agency in midtown Oklahoma City. Insight's clients range from retail flooring stores such as Brewer Carpet One to well-known event centers such as the Cox and Ford centers. They also represent healthcare facilities such as St. Anthony Hospital.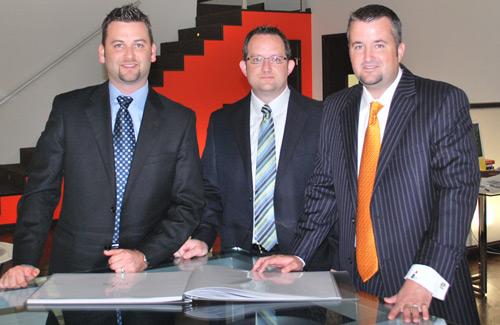 Eric Joiner (left), Doug Farthing (center) and Rusty Duncan (right)

Farthing and his partners, Eric Joiner and Rusty Duncan, received their award at the 14th annual Metro 50 awards banquet Sept. 15 at the Cox Convention Center. The Metro 50 recognizes the fastest-growing companies in the greater Oklahoma City area based on a formula that includes employees and revenue growth.

"It is such an honor to be recognized alongside all of these prestigious companies in the Metro 50," Farthing said. "Here at Insight, we truly feel that we bring a new perspective and energy to the Oklahoma City advertising market. We love developing solutions and making ideas a reality so it's great to be able to achieve success for ourselves as well as our clients doing something we love."

Despite the success, Farthing and ICG have maintained a clear view of the company and its purpose: to serve their clients well.

"The partnerships we have with our clients are the No. 1 priority here at ICG, which makes these awards and lists nice, but not our focus.

Farthing said his time at OBU was a major influence not only on his career path, but also on his outlook on life as a whole.

"OBU certainly opened my eyes and inspired me to choose a career that I am passionate about and not just follow a standard career path," Farthing said. "Dr. Roger Hadley and Dr. David Byland, in the telecommunications department, created an atmosphere of creativity and learning which were crucial to my development as a person and as a professional.

"I look back on my time at OBU and realize how it truly has shaped the person I am today in so many ways. My friendships, family and faith have grown directly from the roots that were planted during my time on Bison Hill. I can't wait to see how OBU will inspire the next generation of wide-eyed beanie-wearing future phenoms. Zip. Bang. OBU."