Participants Invited for Bicycle Classic, Road Race Sept. 26
September 11, 2009
Oklahoma Baptist University's Division of Music, in conjunction with the Pedalers Racing Team and the Greater Shawnee Area Convention and Visitors Bureau, invites interested participants to join the Bison Bicycle Classic in Shawnee on Saturday, Sept. 26. The event will include 10-, 25- and 50-mile bicycle tours, as well as a 50-mile non-sanctioned road race.

All proceeds for the weekend will go to Habitat for Humanity of Shawnee Inc. to build the Division of Music HFH House. This project's goal is to raise funds to build a complete home for the local HFH affiliate. In addition to the Bison Bicycle Classic, the Division of Music also holds an annual concert fundraiser for Habitat for Humanity.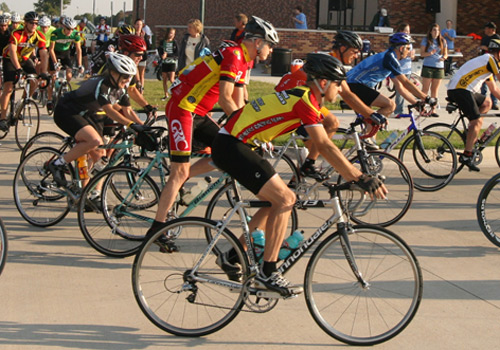 Registration is open online at http://www.active.com/ until Sept. 23, or participants can download a registration form. Registrations will be accepted in person at the OBU Recreation and Wellness Center on Sept. 26 from 7:30 a.m. until the bicyclists depart at 9 a.m. T-shirts are guaranteed only for participants who register before Monday, Sept. 14.

St. Gregory's University will also sponsor a 5K run/race to offer an event for those who would rather run than ride a bike. Last year's combined events brought in nearly $3,000 for Habitat for Humanity.

"This is the ninth year for the Bison Bicycle Classic, and we are always amazed at the number in the community that come out to volunteer and participate," said James Vernon, event coordinator and OBU associate professor of music. "We are pleased to be able to participate with our students in serving this worthy cause."

The Bicycle Classic will include 10-, 25- and 50-mile fully-supported bike tours for cyclists who wish not to race. The 50-mile tour will have a new rest stop at the Primitive Cottage Lavender Farm on Walker Road where participants can stop and enjoy the gift shop and walk through the lavender bushes on the farm. Participants for the event will be provided pizza upon their return to the Wellness Center at OBU.

For more information regarding volunteering or participating in the Bison Bicycle Classic, contact Jim Vernon or Thresa Swadley at (405) 878-2305 or e-mail music@okbu.edu. For more information about the Cavalier Road Race, call (405) 878-5291.