Five Join Bison Hill Residence Facility Staff
August 11, 2009
Oklahoma Baptist University recently announced the addition of five new residence facility staff members.

Holly Hays and Rachel Ukens will serve as residence facility directors beginning in the fall 2009 semester.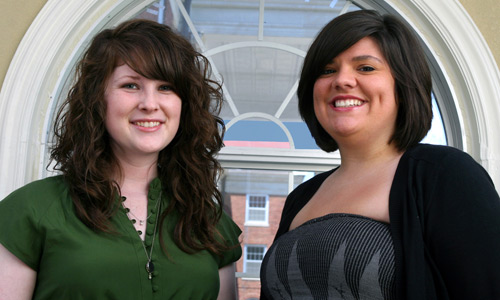 Rachel Ukens (left), a 2009 OBU graduate, and Holly Hays, a 2007 OBU graduate, will serve as new residence facility directors beginning with the fall 2009 semester.

Hays will be the director of the newly renovated WMU Dormitory which houses 189 freshmen women. A 2007 OBU graduate from Monkey Island, Okla., she previously worked as an OBU admissions counselor, serving Northeast Oklahoma (excluding Tulsa and Creek counties), Arkansas and the southern United States.

Ukens, a 2009 Bison Hill alum from Tulsa, Okla., will be the director of the Doris and Jim Taylor Residence Center and West University Apartments. Taylor Residence Center houses 156 sophomore, junior and senior women. West University Apartments will house 128 junior and senior women while one building is closed for renovation this academic year.

"Holly and Rachel are two incredible additions to our staff this year," said Michael Burns, director of residential life and student activities. "They are both very interested in discipling the women on our campus and add a great dynamic to the on campus environment."

Three new staff members will serve as residence facility officers. Janice Lewis will serve in WMU Dormitory; Evan Bordeaux will serve in West University Apartments; and Daniel Ramey will serve in Howard Residence Center.