Camp RAWC Helps Kids Choose Wellness
August 4, 2009
Seventeen Shawnee-area kids participated in Oklahoma Baptist University's first Camp RAWC (Recreation and Wellness Center) from late June through early August. They participated in team-building activities, tackled the climbing wall and swimming pool, and learned how to make healthy choices in activities and food.

"Children today need to be encouraged to stay active and make healthy eating choices," said Amy Riggins, director of OBU's Recreation and Wellness Center. "Camp RAWC was a great way to combine wellness education with fun."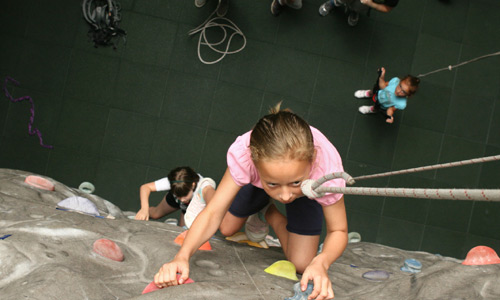 Erin Cobb makes a determined attempt to scale OBU's climbing wall as part of Camp RAWC .

Guided by OBU student workers who served as camp counselors, the children learned about wellness topics including drinking water, staying hydrated, enjoying a variety of fruits and vegetables, and the importance of exercise, stretching, calcium and milk. They participated in activities including the rock climbing wall, swimming pool, obstacle courses, parachute team games and more. The camp ran from 1-5 p.m. three days a week.

"Camp RAWC was really fun and interactive," said Caitlin McGowan, age 9. "I made a lot of new friends, and I learned how to stay healthy and fit."

For information about future Camp RAWC activities or to learn more about OBU's Recreation and Wellness Center, contact Riggins at (405) 585-5222 or by e-mail at amy.riggins@okbu.edu. To learn more about the RAWC, including climbing wall, swimming pool and court rentals, visit the Web at www.okbu.edu/wellness.