Admissions Announces Two New Counselors
August 14, 2009
Oklahoma Baptist University's Office of Admissions recently announced the addition of two new counselors, Katie Overturf and Whitney Ritchie, who joined the staff this summer. Both counselors graduated from OBU in May 2009.

Overturf is as an admissions counselor serving Northeast Oklahoma excluding Tulsa and Creek counties and the Southeast United States, which includes Arkansas, Alabama, Florida, Georgia, Kentucky, Louisiana, Mississippi, North Carolina, South Carolina and Tennessee. From Fort Smith, Ark., she received her bachelor's degree in musical arts: voice, graduating with the scholastic predicate cum laude for maintaining at least a 3.40 grade point average.

"Katie is high energy, very creative and loves life," said Bruce Perkins, director of OBU admissions. "These attributes will serve her well as an admissions counselor and impact our team in a very positive way."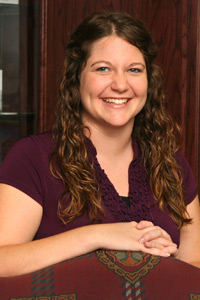 In her role as the new international student liaison, Ritchie coordinates and provides leadership in recruiting international students and supporting those students from the time they arrive at OBU until they graduate. From Pryor, Okla., she earned her bachelor's degree in cross-cultural ministry: orality studies.

"Whitney has been serving as a student worker with our international students as well as a lab instructor for the Intensive English Program this past spring," Perkins said. "Her passion for OBU, love for international students and administrative skills will be an asset to the Office of Admissions."