Alumna Releases Young Adult Novel
July 13, 2009
Creating a fictional world of intrigue and mystery, Oklahoma Baptist University alum Krissi (Inman) Dallas released her debut young adult novel, "Phantom Island: Wind," in May. Dallas graduated from OBU in 2002.

Set in the Texas Hill Country, the story depicts a 17-year-old girl who returns to her childhood summer camp in search of answers to unlock mysteries in her family history.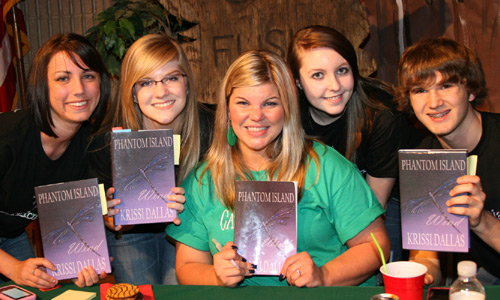 Krissi Dallas (center) attends a release party with more than 250 people in Springtown, Texas, including the founders of The Zephyra, the Official Krissi Dallas Fan Club site (http://www.thezephyra.blogspot.com/). The high school juniors who started the site are former middle school students taught by Dallas. (Photo by Jaclyn Dodd)

Dallas teaches English and language arts at Springtown Middle School in Springtown, Texas. She works alongside her husband, Sam Dallas, also a 2002 OBU alum, with Fusion Student Ministries at Reece Prairie Baptist Church in Burleson, Texas. She also sings on her church's worship team.

"I have a passion for working with teenagers," Dallas said. "That includes listening to the drama, the laughter, the tears and the fears of adolescents needing a responsible adult to point them in the right direction."

The saga of Phantom Island characters Whitnee, Caleb and Morgan will continue in the sequel, "Phantom Island: Water," due in 2010. More information about the series is available at http://www.krissidallas.com/.