Alum Follows Dream of Composing
July 7, 2009
A love for music drives Oklahoma Baptist University alum Nathan Madsen in his career as a composer in a variety of mediums. Madsen, a 2002 music education major, most recently worked on two personal computer games, LEGO Universe and Jumpgate Evolution.

Being a composer, Madsen said, is "what I enjoy doing most, and it just so happens that I am lucky enough to be able to do this and get paid for it."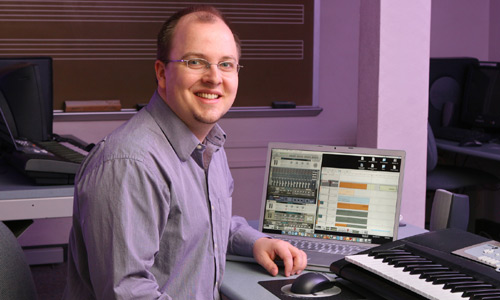 Based in Denver, Colo., Madsen focuses his passion for composing on media compositions.

"When composing for media, you have so many other elements to consider," he said. "The music isn't taking center stage. It's there to support and enhance the game, film or production."

From a young age, Madsen remembers showing interest in music and composing. He remembers a time in his childhood when he rewrote Beethoven's Moonlight Sonata and, after playing it for his mom, told her, "It sounds better this way."

Along with his current PC game projects, Madsen also has composed works for television shows such as Dragon Ball Z and Full Metal Alchemist. His works can also be heard on a variety of Sony Playstation and Nintendo DS games.

"The music instruction I got at OBU was instrumental in my growth as a musician and composer," Madsen said.

OBU's relatively small music school, he said, helped him dive into various music outlets and get a diversified education. While at OBU, Madsen participated in the Wind Symphony, Jazz Band, Bison Glee Club and Campus Activities Board stage band.

"I was able to experience a wide range of repertoire and perform in a wide variety of ensembles and settings," Madsen said. "This helped me become a performer that can adapt to a variety of situations more easily as well as have a better understanding of various ensembles, rehearsal techniques and how the music differentiates from setting to setting."

After his graduation from OBU, Madsen attended Texas Christian University in Fort Worth, Texas, where he received his master's degree in saxophone performance. He speaks about his work at various schools around the country, including a visit to OBU during the spring semester.