Myers Receives Promising Teacher Award
June 25, 2009
Chandler resident Benjamin Myers received Oklahoma Baptist University's Promising Teacher Award during the university's spring Commencement May 23 in Shawnee.

Dr. Myers, who is an associate professor of English, joined the OBU faculty in 2005. He received the award from OBU President David W. Whitlock during the graduation ceremonies before an overflow audience of more than 1,800 in the university's Raley Chapel.

The Promising Teacher Award is presented annually to a faculty member who has taught at the university for less than five years and "shows great promise as a teacher."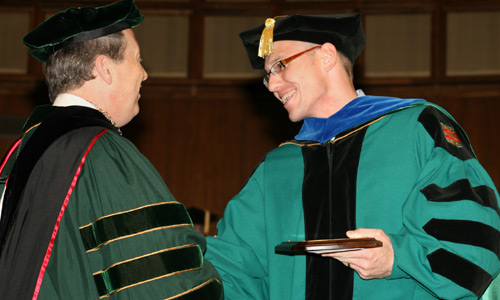 Benjamin Myers received OBU's Promising Teacher Award from President David W. Whitlock during the university's spring Commencement May 23.

In presenting the honor, Dr. Whitlock said "numerous colleagues have commented on how quickly he adapted to OBU's culture and embraced our mission of integrating faith and discipline."

"He took the challenge of one of the most demanding faculty committee leadership positions with precious few years under his belt, and has won the respect of colleagues and students across the disciplines," Whitlock said.

Myers earned a bachelor's degree in English from the University of the Ozarks in 1998, graduating summa cum laude. He completed his master of arts and Ph.D. degrees from Washington University. He started his OBU career as assistant professor and was promoted to the rank of associate professor in March 2009.

Myers studies poetics and early-modern literature. His essays on Edmund Spenser have been published in several prominent journals. He also is a poet, with poems published in Byline, The Mid-American Poetry Review, Mobius, the Lily Review, and volumes six and seven of The Arkansas Literary Forum. His poem "A Small Town Mourns its First Casualty" is slated for inclusion in the anthology America at War, edited by Lee Bennett Hopkins and published by McElderry Books.

Myers and his wife, Mandy, have two daughters, Grace and Elizabeth. He is a member of Chandler First Baptist Church and Gideon's International.