Alumni Publish 'Race the Moon' Children's Book
June 10, 2009
A new children's book on the market, titled "Race the Moon," comes directly from the imagination of two Oklahoma Baptist University alumni, Chris Peters and Laura Thele. The former classmates worked together to compose and illustrate the story.

After sharing a childhood memory in a class at OBU, Peters started to compile the story line. He remembers driving with his family one night when he was a child and, looking up at the moon, he was convinced that it was following him. Peters was awestruck.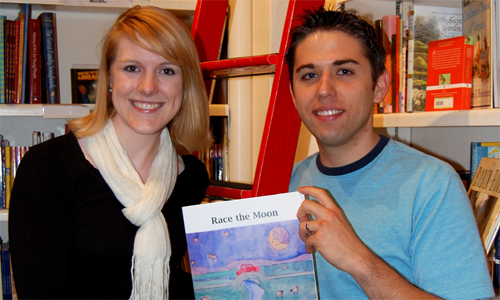 "As I thought about the incredible imaginations of children and the commonality of this experience, the plot of the book gradually came to me," Peters said. "After receiving initial positive feedback, I typed everything out, added some layout components and reviewed it with Dr. Belshe in the Elementary Education department."

Dr. Paulette Belshe, OBU assistant professor in the Division of Teacher Education, is a reading specialist who teaches classes in upper elementary level reading methods, reading assessment, language arts and children's literature.

Realizing that the book needed illustration, Peters sought Thele's artistic abilities. Thele used watercolors in a way that captured the storyline imagined by Peters. The next step in the process was to publish their work.

"After weeding through a few offers and weighing the various pros and cons, I decided to go the more economical route and publish the book myself with some useful electronic tools available online," Peters said. "The final product is a paperback, color-illustrated children's book that is printed directly by the manufacturer."

"Race the Moon" is marketed through electronic newsletters, catalogs, social networking sites as well as Peters' and Thele's personal contacts. Copies have been sold in Oklahoma, Texas, California and Russia.

A 2007 OBU graduate, Peters currently is finishing a master's degree in marriage and family therapy at Oklahoma State University. Thele, who graduated from Bison Hill in 2008, recently finished work with Focus on the Family in Colorado Springs, Colo.

"Over the summer I plan to teach a children's creative writing class at the Stillwater Public Library," Peters said. "I will be working with 5th and 6th graders, showing them the basic writing and publishing process. I'm really looking forward to sharing my love of writing, books and the process of creation with some eager young minds!"

To purchase "Race the Moon," visit Amazon.com or Barnes & Noble bookstores (www.barnesandnoble.com).