OBU Confers Degrees on 254 Graduates
May 23, 2009

Encouraged to continue learning and entertained by a professor's original musical composition, 254 Oklahoma Baptist University graduates received their diplomas during the university's Spring Commencement Saturday morning, May 23, in OBU's Raley Chapel.

An overflow audience of more than 1,800 people attended the formal graduation ceremonies. Dr. Bradley D. Jett, OBU's Hurley professor of biology, delivered the Commencement address, closing with a song for the graduates. Speaking on "how Christian discipleship is like being an OBU student," Jett pointed out a collection of similarities ranging from comical to life-altering.

He quipped that many students, like Jesus' disciples, "wear flip-flops and rarely do laundry" and also noted that neither Jesus nor his disciples used Facebook. But he also stressed the challenges both disciples and college students face.

"Like being a good disciple, being a good OBU student is hard," Jett said. "Is it easy to be an effective disciple? No. ... [Jesus said] discipleship is hard. It's supposed to be hard. Being hard is what makes it great.

"Taking the easy way in your walk with God is a good way to destroy your discipleship," he said. "Likewise, taking the easy way is a good way to destroy a good mind and a good education."

Jett explained that the only question he did not want from students was, "What's going to be on the test?"

"At OBU, we did not want you to be satisfied with the superficial answers that would simply get you by," he asserted.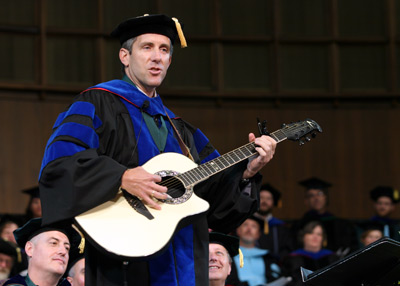 Dr. Brad Jett surprised the graduates with an original song he wrote for Commencement.



He said OBU students had to be willing to "step outside of their comfort zones," like Jesus' original disciples, who were "home-grown to the extreme." In both cases, the individuals were challenged to move beyond their own self-imposed limitations.

"How will you engage [a] diverse world if you are only willing to live in your own?" he asked. "OBU students, like disciples, have to be risk-takers, and if you didn't want to be challenged, you probably should have stayed home in bed."

Jett also told the graduates they needed to continue asking questions.

"I've adopted a classroom credo which was passed on to me by one of my former OBU professors and it says, 'I judge students' intelligence not by the answers that they can give, but by the questions that they can ask.'" Jett said.

"I've also noticed that Jesus' disciples and OBU students, alike, had their preconceptions challenged," he said. "Recall Jesus' numerous lessons with his followers where he said, 'You have heard it said ... but I say.' He was introducing to them a whole new way of thinking."

"Remember, OBU graduates, it doesn't matter what you were; it matters what you've become," he said.

"You are only just beginning a great journey. We have tried to nurture a passion for learning within each of you," Jett said. "Don't quell your thirst for knowledge."

Following his remarks, Jett moved to the side of the podium, took a guitar from a faculty colleague, and sang a humorous song he wrote for the graduates, noting the words "represent some of the things that you and I may have either said or have heard said during the last four years."