Nursing Grads Receive Pins
May 22, 2009
In one of Oklahoma Baptist University's distinctive academic traditions, 40 senior nursing students received their OBU nursing pins at the School of Nursing Pinning Ceremony Friday afternoon in Raley Chapel.

The pinning ceremony celebrates the transition from the role of student to the role of nurse, according to Dr. Lana Bolhouse, dean of the School of Nursing. The rectangular pin, designed by the nursing program's first graduating class in 1956, is reserved for OBU graduates. It features a white Roman cross centered on a black background. Bolhouse placed the pin on the white nursing uniforms worn by the students during the ceremony.

Nicki Sherman, a 2001 graduate of OBU's School of Nursing and a registered nurse, was guest speaker for the service. She reflected on her first few years as a nurse and urged the nursing class of 2009 to listen and focus on images, words and meanings as they begin their career.

"As a nurse we must listen to our patients, listen to what they are telling you when they feel comfortable," said Sherman. "Once they are comfortable, listen to what they are telling you about themselves. You may hear a very important life lesson, whether they meant to share it or not. Nurses must also focus on images, words and meaning. How is it exactly you want to present yourself as a person, son, daughter, spouse, parent and as a nurse?

"The words you choose for your patients are also imperative," said Sherman. "Determine how you would want your loved ones spoken to, and speak to your patients in such a manner. Meanings go beyond images or words. Meanings represent who we actually are. Share yourself with your patients and you will be greatly rewarded. Show everyone through your actions the meaning of your life, and theirs, as well as yours, will be greatly touched."

Sherman also encouraged the nursing students to rely on God as they move forward from OBU and to allow him to guide their future.

"While our reasons for attending OBU may be as great as the number in this room, I'll bet each of us had God plugged in to our decision making process somewhere," said Sherman. "Let God guide your choices as a nurse. He will help you pass boards, he will help you find a job and make decisions. God will comfort you when you make a mistake or when you lose a patient. God will guide your path."

Dr. Jasmin Johnson, OBU assistant professor of nursing, delivered the charge to the students. She reflected on a nurse's journey and charged the students "to sit, to walk and to stand as Christian nurses as you tackle the mountains that face our profession. May God richly bless each one of you as you leave Bison Hill."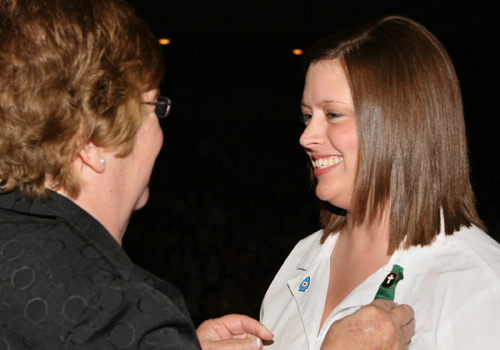 Cara Little, a nursing major from Stillwater, Okla., receives her Oklahoma Baptist University nursing pin from Dr. Lana Bolhouse during the university's 2009 pinning ceremony.


Graduating seniors who received the pin include: Mckenzie Morgan Battershell, Wichita Falls, Texas; Hannah Elizabeth Benfield, Kennewick, Wash.; Kara Leigh Brock, Enid, Okla.; Emily Anne Burton, North Richland Hills, Texas; Laura Ann Cooprider, Edmond, Okla.; Briann Lari Ediger, Meade, Kan.; Kim Alan Friesen, Midwest City, Okla.; Britney Kaydonn Fulton, Owasso, Okla.; Laurence Anfone Gacho, Laguna Nigel, Calif.; Michelle Marie Green, Irving, Texas; Monica Lea Hale, Oklahoma City; Hilary Lynan Hendrickson, Chelsea, Okla.; Rebecca Ashley Hill, Euless, Texas; Jessica Ceres Hobbs, Coffeyville, Kan.; Renee Elizabeth Jamison, Oklahoma City; Shayna Lynn Legg, Shawnee, Okla.; Cara Michelle Little, Stillwater, Okla.; Destiny A. Marrs, Moore, Okla.; Laci Marie Martin, Claremore, Okla.; Emily Ruth McMath, Shawnee; Ashleigh Diane McMains, Edmond; Jenna Lynn Meshew, Shawnee; Victoria Anne Miller, Beaumont, Texas; Natalie Jane Neal, Nederland, Colo.; Hannah Michelle Peters, Arvada, Colo.; Julia Michelle Plangman, Argyle, Texas; Jennifer Caitlin Plunkett, Shawnee; Megan Lynne Ronne, Oklahoma City; Shauna Afton Shelton, Norman, Okla.; Shawnda Lynn Sears, Fort Worth, Texas; Elizabeth Lee Simmons, Washington, Okla.; Jeremy Valerio Tayag, Alameda, Calif.; Jenni Marie Tilson, West Plains, Mo.; Lisa Haywood Vernon, Shawnee; Grace Elizabeth Wagner, Shawnee; Ellisabeth Susanne Weaver, Stillwater; Christopher Zane Wilkinson, Puyallup, Wash.; Katie Joy Young, Santa Ynez, Calif; and Sara Elizabeth Young, Oklahoma City.

The nursing graduates will receive their bachelor of science degrees during OBU's Spring Commencement at 10 a.m. Saturday, May 23, in Raley Chapel.