Intramurals in Full Swing during Spring
May 15, 2009
Throughout the spring, Oklahoma Baptist University students have made the most of the season by competing in intramural sports. Ranging from indoor volleyball to "walleyball" (a volleyball-like sport played in a racquetball court), and from softball to ultimate Frisbee, OBU intramurals offer something for just about everyone on Bison Hill.

"These activities help keep the students involved on campus, provide a brief break from academics, and help promote an active and healthy lifestyle," said Mike Manlapig, who serves as intramural sports director and assistant to the athletic director. "Students get to fellowship and work together in a team-oriented atmosphere and get to build friendships that will many times last for the rest of their lives."

"Intramural sports are a great stress release, and a way to show your 'mad skills,'" said Jacob Hibbard, a sophomore Bible major from Chickasha, Okla., who plays intramural volleyball. "And I have definitely made friends that I might not have been able to make I not participated in intramurals."

Spring intramural sports offered at OBU include indoor volleyball, doubles racquetball, doubles tennis, softball, three-on-three basketball, walleyball, four-on-four flag football and ultimate Frisbee. Champions of each sport win an exclusive intramural T-shirt that is unavailable for purchase.

"Intramurals help students stay connected with one another throughout their entire college career," said Shannon Wilcox, a junior special education major from Highlands Ranch, Colo., who plays intramural softball. "Upper classmen sometimes get lost in their studies and busy schedules, but intramurals help keep you involved and help you spend more time with friends."

Even OBU faculty and staff get in on the fun.

"I've played intramural tennis, on and off, mostly doubles and mixed doubles, since the 1980s and have won a few shirts," said Dr. William Hagen, professor of English at OBU and intramural tennis aficionado. "It is fun competing with students on the tennis courts, testing each other and enjoying the competition in a sport one can play for most of one's life. Well-played, with fair line calls and good sportsmanship, it's certainly healthy for the soul as well as the body."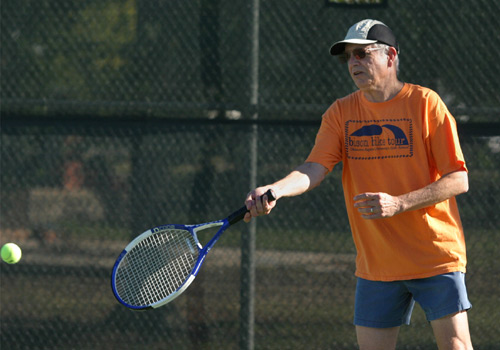 Dr. Bill Hagen often participates in intramural tennis on Bison Hill.