Shawnee Honor Choir Auditions May 19-20
May 18, 2009
Area elementary and middle school students are invited to audition for the 2009-10 edition of Shawnee Honor Choir this week, Tuesday, May 19, and Wednesday, May 20, from 3-5 p.m. in Oklahoma Baptist University's Raley Chapel.

The group will consist of rising third- through seventh-grade students. Auditioning students will be asked to sing "Happy Birthday." Auditions are conducted in the order of arrival.

For more information or to audition by appointment on a different day, visit the Prep Department webpage, call (405) 585-4329 or email prep@okbu.edu. Additional auditions for Shawnee Honor Choir and other Young Singers of Central Oklahoma choirs will be offered in August.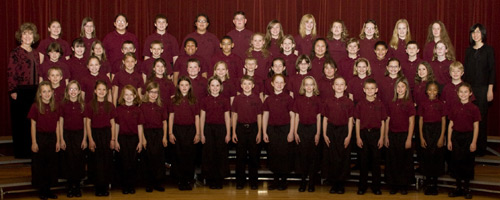 "Shawnee Honor Choir is dedicated to the philosophy that through the learning and performance of excellent choral literature, the lives of the choir members, as well as the lives of their families and the community will be enriched both musically and artistically," said Hansford. "The choir provides a special learning environment designed to provide a rich and rewarding musical experience for each child."

The children study and perform a variety of music from simple unison songs to more challenging choral literature. Concepts about music and musical skills are taught systematically throughout the rehearsals.

"Singing, a powerfully personal means of musical expression, is the major focus of musical experience in the choir," Hansford said. "The goal is that the experience of artistic singing will form the foundation of a life-long relationship with music for the singers and their families."

Hansford serves as OBU's director of the Preparatory Department and assistant professor of music. Shehas taught music education at all levels including Kindermusik for babies through age 6. During her 28-year teaching career she has taught a variety of university courses including early childhood and elementary music methods, church music methods, class piano, voice and private piano. Active as a guest conductor and workshop leader, she has presented numerous workshops in Arkansas, Texas, New Mexico, Oklahoma and Kansas. She also directs the Young Musicians Choir at the First Baptist Church of Shawnee.

Hansford earned degrees from Mississippi University for Women and Wayland Baptist University. She is Orff certified and has done additional graduate study in music at Texas Tech University, the University of Oklahoma and the University of Colorado at Greeley. She is a licensed Kindermusik educator.