Nursing Grads Honored at Pinning May 22
May 15, 2009
Continuing a unique academic tradition at Oklahoma Baptist University, 39 senior nursing students will receive their OBU nursing pins at the School of Nursing Pinning Ceremony Friday, May 22, at 1 p.m. in Raley Chapel's Potter Auditorium.

Dressed in their white nursing uniforms, the seniors will be recognized for completion of their bachelor of science degrees. The students also will participate in OBU's Spring Commencement on Saturday morning, May 23.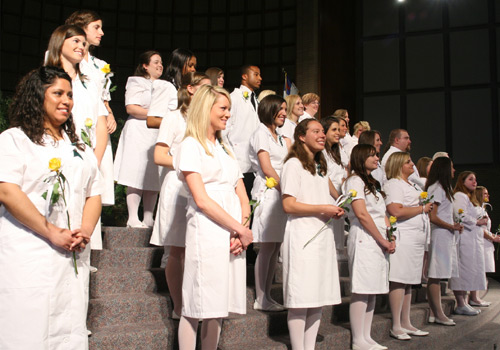 Nicki Sherman, a 2001 graduate of OBU's School of Nursing and registered nurse, will deliver the Pinning Address. Dr. Jasmin Johnson, OBU assistant professor of nursing, will deliver the charge to the students.

The pinning ceremony celebrates the transition from the role of student to the role of nurse, according to Dr. Lana Bolhouse, dean of the School of Nursing. The pin, designed by the nursing program's first graduating class in 1956, features a white cross in the center and is unique to OBU graduates. Bolhouse will present the distinctive pin to each graduating student. Each senior also will receive a rose.

A lifelong resident of Shawnee, Sherman graduated from OBU in 1995 with a bachelor's degree in piano performance and from University of Oklahoma in 1997 with a Master of Music degree. She returned to Bison Hill to earn a bachelor's degree in nursing in 2001. Following graduation, she was employed by Unity Health Center (then Shawnee Regional Hospital) as a labor and delivery nurse. In 2006, she became a hospice case manager for Heartland Hospice. Today, Sherman is in the nurse practitioner program, pursuing a master's degree in nursing at Vanderbilt University. She will graduate Aug. 2, 2009, and hopes to practice in Shawnee. She works three nights a week at Unity Health Center in the newborn and NICU nursery.

Sherman is married to Chris and they have four daughters: Emma, age11; Harper, age 10; Abby, age 8; and Maggie, age 3. Sherman enjoys being onstage at Shawnee Little Theatre and teaches dance at Shawnee Academy of Ballet.

Graduating seniors receiving their nursing pins include: Mckenzie Morgan Battershell, Wichita Falls, Texas; Hannah Elizabeth Benfield, Kennewick, Wash.; Kara Leigh Brock, Enid, Okla.; Emily Anne Burton, North Richland Hills, Texas; Laura Ann Cooprider, Edmond, Okla.; Briann Lari Ediger, Meade, Kan.; Kim Alan Friesen, Tinker Air Force Base, Okla.; Britney Kaydonn Fulton, Owasso, Okla.; Laurence Anfone Gacho, LaGonna Nigual, Calif.; Michelle Marie Green, Irving, Texas; Monica Lea Hale, Oklahoma City; Hilary Lynan Hendrickson, Chelsea, Okla.; Rebecca Ashley Hill, Euless, Texas; Jessica Ceres Hobbs, Coffeyville, Kan.; Renee Elizabeth Jamison, Oklahoma City; Shayna Lynn Legg, Shawnee, Okla.; Cara Michelle Little, Stillwater, Okla.; Destiny A. Marrs, Moore, Okla.; Laci Marie Martin, Claremore, Okla.; Emily Ruth McMath, Shawnee; Ashleigh Diane McMains, Edmond; Jenna Lynn Meshew, Shawnee; Victoria Anne Miller, Beaumont, Texas; Natalie Jane Neal, Nederland, Colo.; Hannah Michelle Peters, Arvada, Colo.; Julia Michelle Plangman, Argyle, Texas; Jennifer Caitlin Plunkett, Shawnee; Megan Lynne Ronne, Oklahoma City; Shauna Afton Shelton, Norman, Okla.; Shawnda Lynn Sears, Fort Worth, Texas; Elizabeth Lee Simmons, Washington, Okla.; Jeremy Valerio Tayag, Alameda, Calif.; Jenni Marie Tilson, West Plains, Mo.; Lisa Haywood Vernon, Shawnee; Grace Elizabeth Wagner, Shawnee; Ellisabeth Susanne Weaver, Stillwater; Christopher Zane Wilkinson, Puyallup, Wash.; Katie Joy Young, Santa Ynez, Calif; and Sara Elizabeth Young, Oklahoma City.

The Pinning Ceremony will be followed by a reception on the second level of OBU's Geiger Center at 2:30 p.m.

OBU's Spring Commencement will be at 10 a.m. Saturday, May 23, in Raley Chapel.