Bison Glee Club to Make Texas Tour
May 12, 2009
Oklahoma Baptist University's Bison Glee Club will begin their 2009 Spring Tour on Saturday, May 23. The group will travel to the Dallas/Fort Worth metroplex with stops in Tyler, Richardson, Greenville and Granbury, Texas.

Founded by the late Warren M. Angell in 1938, the Glee Club was, for years, viewed as musical ambassadors for the university, touring throughout the United States and internationally. In celebration of its 70th academic year, the Glee Club will present a varied program of sacred and secular music composed for male voices. To reflect the tradition of extended travel, selections have been chosen to represent Native America, Central America, China, Japan, the Republic of Georgia, Russia, France, Germany and South Africa.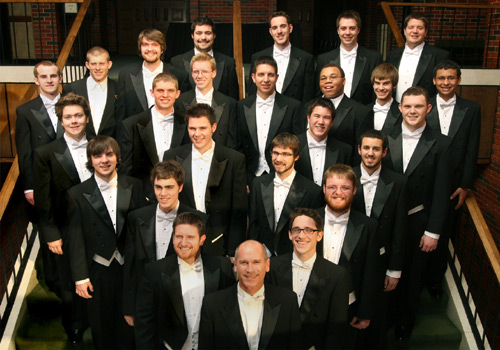 The ensemble is directed by Dr. David DeSeguirant, OBU associate professor of music and director of choral activities.

The Bison Glee Club will sing during morning worship services Sunday, May 24, at Sylvania Baptist Church, 2801 S Southeast Loop 323, Tyler, Texas. They also will perform a 6 p.m. concert at the church. Tuesday, May 26, they will perform at Richardson (Texas) High School during the day. That evening, they will present a concert at Ridgecrest Baptist Church, 6801 Wesley Street, Greenville, Texas. Wednesday, May 27, the group will perform at J.J. Pearce High School in Richardson during the day. Their evening concert venue will be First Baptist Church, 1851 Weatherford Highway, Granbury, Texas, at 6 p.m.

Admission is free to the church concert venues, and all are welcome to attend.