Senior to Showcase 'Kaleidoscope' of Artwork
May 7, 2009
Sarajane Harris, an Oklahoma Baptist University senior graphic design major, plans to incorporate her knowledge of the Photoshop and Illustrator computer programs into her senior art show, titled "Kaleidoscope." The 23-year-old artist from Aurora, Colo., will showcase her artwork in the on-campus Art Division Gallery from May 13-22.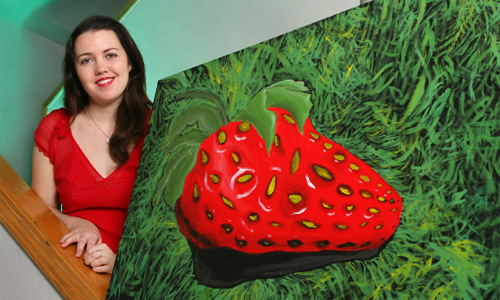 "I love being a graphic design major because there are so many different types of design and so many ways to express yourself," Harris said. "I have a passion for art, and I can't remember a time when it wasn't part of my life."

OBU is host a series of senior art shows throughout the spring semester depicting each artist's favorite pieces in accordance with their chosen theme. Harris' theme is "Kaleidoscope" because each piece in the show is inspired by various things.

"Each piece represents a series of phases and events," Harris said.