Bible-Reading Marathon Tradition Continues at OBU May 6-7
May 1, 2009
For the fourth consecutive year, students and faculty members of Oklahoma Baptist University, as well as leaders in the Shawnee community, will continue the tradition of a public reading of the entire New Testament of the Bible within a 24-hour period. The event, which will involve an estimated 250 students, faculty members and community members, will commence with an opening ceremony at 8:30 p.m. Wednesday, May 6, and reading will begin at 9:30 p.m. at the gazebo outside OBU's Stubblefield Chapel.

This year's marathon coincides with the National Day of Prayer, and events will be coordinated around the two emphases. While the reading is taking place outside Stubblefield Chapel, a room will be opened inside for prayer. People wishing to participate in one or both of the events can sign up inside OBU's Geiger Center, at the Campus Ministry office in Montgomery Hall, or by calling Campus Ministry at 878-2377. Five-minute reading slots are available, and participates are invited to pray.

"This event is important because it involves both pastors and civic leaders in a community-building event," said Dale Griffin, OBU's dean of spiritual life. "There is nothing like God's Word. To take time out to read through His Word is one of the ways we, as a community, value God's Word."

The Bible-reading marathon, which began as a Shawnee event in 2004 by Dr. John Nichols, involved reading the entire Bible in a three-day span. Nichols serves as associate professor of mathematics at OBU. The marathon has been conducted on OBU's campus since 2005 and has been primarily a New Testament reading, though some Old Testament Scriptures will be included. Gerald Kelly, a retired pastor from the Bryan Baptist Association, will be serving as this year's volunteer community prayer coordinator and will be organizing the event.

The event will conclude on Thursday, May 7, at a 6 p.m. closing ceremony led by Greg Frizzell, a prayer and spiritual awakening specialist with the Baptist General Convention of Oklahoma. The event is open to the members of both the OBU and Shawnee community, and participants may come and go.

"For me [the marathon] has been a worship experience," Griffin said. "The opening and closing ceremonies have been powerful, we've had vocal groups perform during those ceremonies, and we've had community leaders speak to the importance of Scripture, Scripture reading and prayer, and we're doing that again this year."

The National Day of Prayer is an annual observance held on the first Thursday of May, inviting people of all faiths to pray for the nation. It was created in 1952 by a joint resolution of the United States Congress, and signed into law by President Harry S. Truman. For more information, visit http://www.ndptf.org/.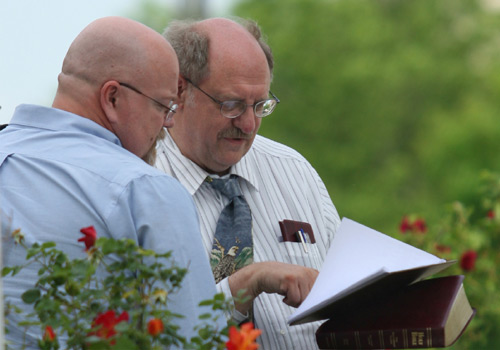 Gary Nickerson (left), assistant vice president for business affairs, information systems and services, and Dr. John Nichols, associate professor of mathematics, participate in the traditional Bible-reading marathon near OBU's Stubblefield Chapel.