Shawnee Honor Choir to Present Spring Concert April 26
April 20, 2009
Shawnee Honor Choir will present its spring concert on Sunday, April 26, at 3 p.m. in Raley Chapel's Yarborough Auditorium on the Oklahoma Baptist University campus. The concert is free and open to the public.

Shawnee Honor Choir, an auditioned choir of 58 third- through seventh-grade students representing 20 different schools in Shawnee and the surrounding area, is a part of the Young Singers of Central Oklahoma, the preparatory choirs of Oklahoma Baptist University. Shawnee Honor Choir is directed by Conchita Hansford, music preparatory director and OBU faculty member since 1990. Dephanie Lilite serves as accompanist.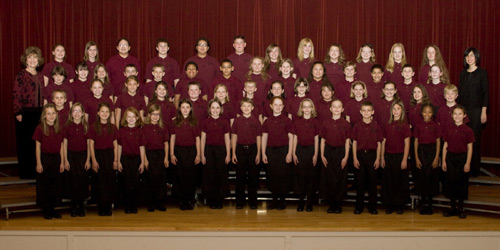 Shawnee Honor Choir performs in 12 schools annually, presents two formal public concerts each year and frequently performs at community events. The choir has performed four times at the Oklahoma Music Educators Association Convention in Tulsa. On Tuesday, April 21, the choir performed at Horace Mann, Grove and North Rock Creek. On Friday, April 24, they will perform at Liberty Academy, Will Rogers and Sequoyah Elementary.

Shawnee Honor Choir will open with "Thanks and Praise," by Ruth E. Dwyer and Martin L. Ellis and then perform "Pie Jesu" in Latin from Requiem by Andrew Lloyd Webber. Webber said if he could put the song he's most proud of in a time capsule for later generations, it would be "Pie Jesu."

Other selections on the program include "When I am Silent" by Joan Varner and "Inscription of Hope" by Z. Randall Stroope." "When I am Silent" is a song for a young girl at Auschwitz, the Jewish concentration camp where more than 6 million people were killed. The song is written from the girl's perspective; she is singing, wondering who will be left after she dies to experience the things that she enjoys about life and living. The words from "Inscription of Hope" were inscribed on the walls of a cellar in Cologne, Germany, where Jews were hiding from the Nazis during World War II.

A lighter part of the programs includes "I Am a Small Part of the World" and "May You Always Have a Song" by Sally Albrecht and Jay Althouse. The final selection, "Chatter with the Angels," arranged by Charles Collins, is a fun setting of the traditional Afro-American spiritual.

Orff instrumentalists will perform an arrangement of "Pachabel Canon" by Bradley Bonner. These students include Harper Morris, Erin Presley and Graham Griffin, soprano glockenspiels; Joseph Brasher, alto glockenspiel; Abby Beeson, Beth Brasher and Stevany Saxon, soprano xylophones; Brenna Grein, Carlyn Martin, alto xylophones; Caleb Richards, bass xylophone; Logan Jennings, soprano metallophone; Bailey Kasterke, alto metallophone; Rachel Argo, bass metallophone; Madison Auld and Kayli Foran, bass bars.

Alexis Capron, Acacia Collins, Ansley Elliott, Caleb Frank, Jack Hopkins, Michaela Ramsey and Stevany Saxon will present introductions to the choral works.

At the end of the program, there will be an audience sing-a-long of patriotic songs. Hand chime performers include Chloe Anderson, Dylan Carver, Haleigh Collier, Acacia Collins, Mikayla Fest, Allie Frank, Caleb Frank, Beth Graves, Julieann Gilmore, Ashley Kasterke, Kaeley Mastin, Holly Naylor, Kaylan Posey, Michaela Ramsey, Kimberly Ross, T.J. Stinnett, Parker Terrell, Shane Turner, Peyton Wilson, Emily Yoakum and Lauren Yoakum.

On May 18, Shawnee Honor Choir will join with Sine Nomine, the adult community chorus, to perform "Dona nobis pacem" from Mass of the Children by John Rutter. The concert will be at Shawnee's First Presbyterian Church at 7:30 p.m.

Schools represented in Shawnee Honor Choir include Cross Timbers in Tecumseh, Dale Middle School, Family of Faith, Grove, home schools, Jefferson, Konawa Middle School, Liberty Academy, McComb Elementary, McLoud Intermediate, New Lima Elementary, Park Road Elementary in Chandler, Prague Elementary, Seminole Northwood, Sequoyah, Shawnee Middle School, South Rock Creek, Tecumseh Middle School, Veritas Classical Academy in Oklahoma City, and Will Rogers Elementary.

College student assistants with Shawnee Honor Choir include Meghan Loyd, Elizabeth Polston and Micah Reinhart, sophomore music education majors. They provide valuable assistance with sectionals and instrumental rehearsals on a regular basis. Honor choir moms are Debbie Beeson and Kim Fest.

The choir is dedicated to the philosophy that through the learning and performance of excellent choral literature, the lives of the choir members, as well as the lives of their families and the community will be enriched both musically and artistically. The choir provides a special learning environment designed to provide a rich and rewarding musical experience for each child. The children study and perform a variety of music from simple unison songs to more challenging choral literature. Concepts about music (melody, rhythm, harmony, form and expression) and musical skills (singing, music reading, etc.) are taught systematically throughout the rehearsals. Singing, a powerfully personal means of musical expression, is the major focus of musical experience in Shawnee Honor Choir. The children are taught the use of the vocal instrument through exercise, posture, breath and tone production. The goal is that the experience of artistic singing will form the foundation of a life long relationship with music for the singers and their families.

Conchita Hansford, assistant professor of music, has taught music education at all levels including Kindermusik for babies and their mothers and other Kindermusik classes for children through age 6. During her 27-year teaching career she has taught a variety of university courses including early childhood and elementary music methods, church music methods, class piano, voice, and private piano. Active as a guest conductor and workshop leader, she has presented numerous workshops in Arkansas, Texas, New Mexico, Oklahoma and Kansas. She also directs the Young Musician's Choir at First Baptist Church, Shawnee. Hansford has earned degrees from Mississippi University for Women and Wayland Baptist University. She is Orff certified and has completed additional graduate study in music at Texas Tech University, the University of Oklahoma and the University of Colorado at Greeley. She is a licensed Kindermusik educator.