OBU Presents 'Tender Land' Opera March 26-29
March 9, 2009
Bringing to life a depression-era love story set in America's heartland, Oklahoma Baptist University's Music Department will present Aaron Copeland's opera, "The Tender Land," March 26-29 in Raley Chapel's Potter Auditorium.

Area schools are invited to attend a free performance Thursday, March 26, at 10 a.m. Public performances will be Friday, March 27, and Saturday, March 28, at 7:30 p.m., and Sunday, March 29, at 3 p.m. Tickets for public performances are $5 each and may be purchased at the door.

In the opera, the isolated world of the rural Moss family revolves around the graduation of the elder daughter, Laurie. The hopes of the family all rest with their first-ever high school graduate. At 18 and eager to experience life, Laurie loves her family, but she is unsure of her place in the world.

The family is shaken up on the eve of Laurie's graduation when two strangers - Martin and Top - arrive on the farm looking for work. Grandpa Moss is reluctant to give the boys work, but he agrees they can stay for the harvest and even come to Laurie's graduation party that evening. At the party, Martin falls in love with Laurie, but when Grandpa catches the two in an intimate moment, he orders the boys to leave. After tempers calm and all the party guests have gone home, Martin and Laurie steal another moment together. In Act III, the two young lovers make plans to embrace their love and elope - but the story doesn't end there.

"Aaron Copland's opera, 'The Tender Land,' has something for everyone," said Mark McQuade, OBU assistant professor of music and director of the production. "It is good for new opera goers as well as seasoned opera veterans. While this opera did not find success with audiences early on, it has since become somewhat of a 'cult classic' and has found favor in many academic settings.

"Copland's beautifully crafted score, set to the libretto by Horace Everett, subtly weaves together themes of hope, love and self-realization," McQuade said. "I think people can relate personally to this story on many levels, and when you combine that with Copland's incredible gift of creating music that is truly 'American,' and some very talented young singers, you have a winning combination."

McQuade encourages area schools to take advantage of the opportunity to introduce their students to opera by attending the free performance March 26. Schools which plan to attend should contact the OBU Music Department at (405) 878-2305.

"We wanted to give students from the area the opportunity to experience opera," McQuade said. "This is an exciting, powerful and dramatic musical genre that very few get to experience any more - and you really do need to 'experience' opera to get it. One can hear great singing, but until one hears that singing in context with costumes, sets and live actors, one can't truly appreciate the beauty of this art form.

"Hopefully by exposing younger generations to great music like this, we can cultivate an appreciation for the arts that will continue to develop in the years to come," he said.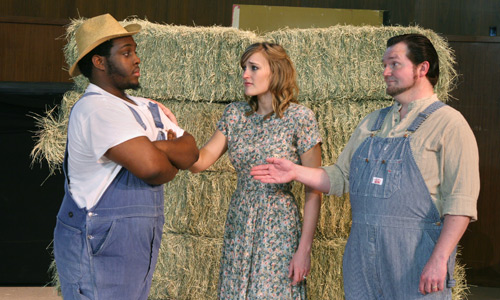 In Oklahoma Baptist University's production of "The Tender Land," Grandpa Moss, played by Charles Bullard Jr. (left), is skeptical about Laurie, played by Jennifer Novotny, and Martin, played by Eric Gay. Bullard is a sophomore from Oklahoma City; Novotny is a senior from Meeker, Okla.; and Gay is a senior from Shawnee.