Children's 'Arkansaw Bear' Play Continues at OBU
March 2, 2009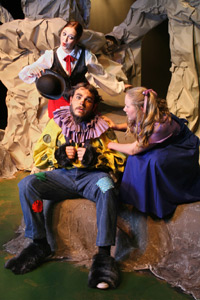 Oklahoma Baptist University's Theatre for Young Audiences will continue "The Arkansaw Bear," March 6 at 7:30 p.m., and March 7 at 2:30 p.m. in Craig-Dorland Theatre in OBU's Shawnee Hall. The performance, directed by OBU alum Andra Dunn, blends realism with fantasy and sorrow with humor.

More than 2,500 area school children will watch "The Arkansaw Bear" March 2-6 during matinee field trips to the OBU campus. The Theatre for Young Audiences production has been an annual event on the OBU campus since 1993.

"The Arkansaw Bear" tells the story of Tish, a young girl who, saddened and bewildered at her grandfather's approaching death, runs to her "special tree." There, Tish begins to understand the meaning of both life and death, which helps her to cope with her own sadness.

Delightfully theatrical, with music, magic and dance, "The Arkansas Bear" has been enthusiastically applauded by children's and family audiences. The work is written by Aurand Harris, the most-produced playwright for young audiences in the United States.

Typically, the Theatre for Young Audiences production is directed by Dr. Laura Byland, OBU associate professor and director of theatre. However, the children's play coincides with the Regional Competition in The Kennedy Center American College Theatre Festival. For only the second time in OBU theatre history, a production by the campus' theatre department - "As It Is In Heaven" - has advanced to the regional competition, conducted at the University of Texas, San Marcos.

The OBU Theatre Department turned to Dunn, a 2004 OBU graduate, to lead the annual Theatre for Young Audiences production. Dunn teaches Acting I and Acting II at Oklahoma City University. She also serves as the artistic director for OCU's "Let's Pretend Players" acting troupe.

"It was a huge honor to be asked to direct the show," Dunn said. "It's been really awesome getting to know the students."

Dunn noted that the cast has grown close, discussing their personal experiences with the death of a loved one and working together to produce what she defines as a "very poetic" script. She said the production provides the challenge of mixing the theme with both humor and sincerity.

Tickets are on sale for $8 for adults, $6 for students and $2 for children under age 12. Located in Sarkeys Telecommunication Center, the OBU Box Office is open Monday-Friday from 9 a.m. to 4:30 p.m., or call (405) 878-2347.