Asthma Attack: Just Keep Breathing and Laughing
March 12, 2009
At first glance, the group's name seems to make light of a serious health issue. But after taking a breath, you realize the name reveals a lot.

Asthma Attack is a comedy group comprised of current and former Oklahoma Baptist University students. Two of the group's members struggle with asthma, but that hasn't stopped them from forging ahead with an ambitious plan.

The team had its first performance - a collection of comedic skits - in early October. Their inaugural show was an hour-long program sponsored by University Concert Series. Current students Jason Gallagher and Wade Browning joined with 2008 graduate Ben Fort and 2007 graduate Hayley Kessler to form Asthma Attack.

The group's name first surfaced on the campus with a band performing in Spring Affair, an annual program produced by Campus Activities Board. Fort and Gallagher came up with the name because both struggle with the chronic respiratory disease.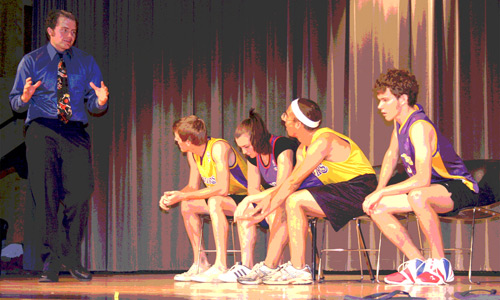 Browning - well-known on campus (and YouTube) for his Christmas Chapel 2007 portrayal of OBU Interim President John Parrish - thought of the idea of starting a comedy group one night while lying in bed.

"I just thought it could be something we could try," said the senior psychology major. "You know, see if this is something we really want to do with our lives. To a degree, that's what we've done, but Ben and Jason have really fueled this thing more than I ever could have alone."

The group does not know how long their comedic stint will last, but hopes to do at least one more show in Shawnee.

"We plan on doing a show at the Ritz Theatre in downtown Shawnee," said Fort, who earned a bachelor's degree in family psychology.

The group collaborates on show ideas, taking different scenarios and developing them into a skit. While Fort said ideas and writing come easily, he said the group's first show proved to be more than they anticipated.

"Our first show ended up being really rushed and was very stressful the day leading up to it," said Fort. "We need to work on scheduling and making sure we get all our work done beforehand and be able to do a relaxed run-through the day of the show."

The group combines a blend of geographic backgrounds with academic preparation suited for communication and understanding. Kessler, from Edmond, completed a bachelor's degree in communications. Gallagher, whose family recently relocated from the Dallas-Fort Worth Metroplex to the small town of Watkinsville, Ga., is majoring in strategic communication. Browning grew up in Yukon, while Fort is from Kingwood, Texas, near Houston.

Some members of Asthma Attack recently appeared in "Room for Cream," a play written and directed by Fort. Browning and Gallagher both starred in the play. Fort was inspired to write the play based on his time spent working in a local coffee shop.

The story line takes place at a coffee shop named Javawesome and goes through the day-to-day happenings of the shop. The play premiered at the Ritz Theatre in downtown Shawnee in early March with two performances.

Gallagher, Browning and Fort are willing to share a common geographic locale if they continue to pursue comedy. They have discussed traveling to Chicago and taking classes at Second City, an improvisational sketch comedic venue.

"If that happens, whoever goes up there I'm sure will continue working together," said Fort.

"That's probably the oldest desire that I've had with this whole comedy deal," said Browning. "It was encouraging and intimidating at the same time. I've always believed in learning everything you can about something if you really love it."