Opportunity Extended for Travel, Study with OBU Program
February 27, 2009
Editor's Note: The 2009 OBU European Studies Program trip has been canceled.

St. Augustine once said, "The world is a book, and those who do not travel read only one page." Oklahoma Baptist University invites students, alumni and friends in the community to expand their worldview by combining travel and study in Europe through the University's 2009 European Studies Program. The program's application deadline has been extended to March 13 to allow more people the opportunity to participate.

"Traveling and learning are both great adventures, and having the opportunity to combine these together is what makes the OBU European Studies trip such a wonderful experience," said Dr. Kaylene Barbe, director of OBU's study abroad programs. "People have a chance to travel with knowledgeable OBU professors and see, firsthand, places and artifacts they may have only read about.

"C.S. Lewis once said we read to know we are not alone," Barbe said. "We also travel to realize we are not alone. Travel makes us realize people are not so different from ourselves. They may do things in different ways, but our goals are basically the same. When we travel, more often than not, we learn as much, if not more, about ourselves as we do the people and places we visit."

The group will be based at the Chateau de Pourtales in Strasbourg, France. Departing June 2 and returning June 25, participants will visit locations in France and Germany, and will offer an optional day trip to Switzerland. The 23-day study abroad program allows students the option to earn up to six hours of academic credit.

"Our program offers exposure to European culture, arts and history," Barbe said. "Students will discover European history, art and literature, gain a greater understanding of how the Reformation impacts our lives, and get a new perspective of world events."

Two courses will be offered for credit. Directed studies in history and music also will be available for credit.

Arts and Western Culture (FNAR 2063) will be taught by Dr. Jennifer McQuade, OBU assistant professor of music. This course examines the development of the visual, musical and theatrical arts through c. 1900 (with references to significant modern ideas), focusing primarily on western European idioms. Taught as a chronology, it closely relates works and ideas to philosophical, historical events and sociological trends.

History of Christianity: Reformation and Modern (HIST 2543/REL 2543) will be taught by Dr. Glenn Sanders, OBU professor of history and chair of the Division of Behavioral and Social Sciences. This course examines the historical development of Christianity from the 16th century to the present. Special attention is given to the causes, character and consequences of the Protestant Reformation; the nature and varieties of Protestantism; the impact of modern secular culture on the church; and contemporary trends in Christianity.

Total cost for the 2009 European Studies Program is $4,950, which includes tuition, airfare, lodging, ground transportation, and 29 meals. The group is limited to 20 participants. The trip price includes tuition for the studies, whether or not participants choose to register for academic credit.

The program's extended application deadline is March 13, 2009. A non-refundable $250 deposit is due March 13, as well as the first trip payment of $1,500. Interested participants can download the program application from the OBU Web site and pay deposits at the OBU cashier's window in Thurmond Hall.

For more information, contact Barbe at (405) 878-2348 or kaylene.barbe@okbu.edu.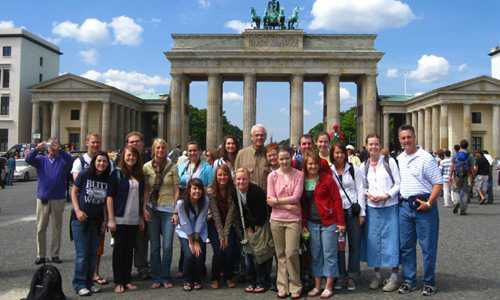 OBU students, faculty and guests visit the Brandenburg Gate in Berlin, Germany, during the 2008 European Studies Program.