David's Creed Provides a New Flavor to Churches
February 19, 2009
For more than two and a half years, members of Oklahoma Baptist University's worship band, "David's Creed," have shared their musical talents at churches and events across the region.

The nine-member band, along with its founder and director, Dr. Lee Hinson, travel throughout the fall and spring semesters leading worship at churches throughout Oklahoma. They also have led worship in Texas, and will perform in Missouri this spring.

"The purpose of David's Creed is to connect OBU with the churches. Plain and simple," Dr. Hinson said. "We are representatives of OBU in the local church, alongside other university music groups; we're just another flavor on the palate."

David's Creed takes a contemporary approach to leading worship. With three vocalists, a vocalist/acoustic guitarist, a bass player, a percussionist, a lead guitarist, and a pianist, the band mixes contemporary music with traditional hymns. Hinson said the repertoire allows the group to minister in churches with different types of musical preference.

Members of the group include Parker Jackson, a sophomore bassist from Ozark, Mo.; Chance Ballard, a sophomore sound technician from Lawton, Okla.; Patrick Womack, a junior percussionist from Oklahoma City, Okla.; Jonathan Hamrick, a sophomore guitarist from Cedar Crest, N.M.; Brett Spalding, a senior vocalist from Canyon, Texas; Taylor Weaver, a senior vocalist from Cassville, Mo.; Brett Sexton, a junior vocalist and guitarist from Oklahoma City; Malerie Nelson, a junior pianist from Sherman, Texas; and Whitni Butler, a senior vocalist from Sapulpa, Okla.

"It is a lot of fun to connect and lead people in worship - people who play a vital role in the OBU community," Jackson said. "David's Creed gives me the opportunity to worship through music as well as fellowship with other members of the band and people at the churches where we lead."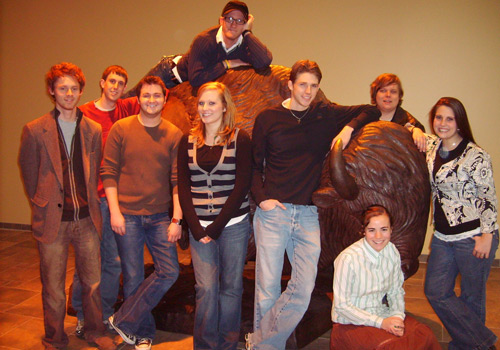 Members of the Oklahoma Baptist University band David's Creed minister in churches across the region. The band includes (top) Parker Jackson, (from left) Patrick Womack, Jonathan Hamrick, Brett Spalding, Taylor Weaver, Brett Sexton, Chance Ballard, Whitni Butler and (seated) Malerie Nelson. They are directed by Dr. Lee Hinson.