New OBU Scholarship to Honor Anthony Jordan
January 14, 2009
While he has worked closely with Oklahoma Baptist University for more than a dozen years, Dr. Anthony Jordan now has his name tied to an endowed fund which will benefit OBU students for decades to come.

John Massey, chairman of the board of First United Bank in Durant, Okla., recently established the scholarship at OBU in honor of Jordan, executive director-treasurer of the Baptist General Convention of Oklahoma.

The Anthony Jordan Endowed Scholarship was launched with a $15,000 contribution from Massey. Earnings from the funds, which have been invested with the Baptist Foundation of Oklahoma, will provide financial support for the scholarship recipients. Jordan has been asked to help determine the selection criteria for scholarship recipients.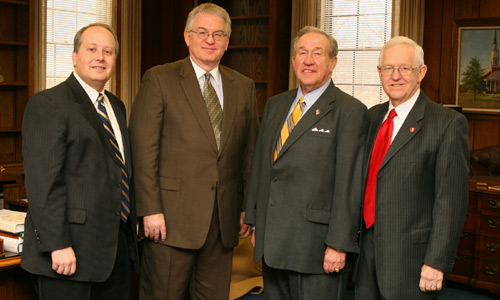 Oklahoma Baptist University President David W. Whitlock (left) meets with Dr. Anthony Jordan, John Massey and Dr. Henry Gold to discuss the formation of a new OBU scholarship. The fund has been established by Massey in honor of Jordan's service as executive director of the Baptist General Convention of Oklahoma.

Jordan has served as BGCO executive director-treasurer since 1996. He is the chief administrator for the convention, which coordinates the work of more than 1,700 Oklahoma Baptist churches. During his tenure with the BGCO, he has led in expansion of educational training programs for state pastors, worked on a massive renovation and expansion the convention's Falls Creek conference facility near Davis. Under Jordan's leadership, the BGCO has conducted a variety of national and international missions and disaster relief efforts.

Born in Ponca City, Jordan earned a bachelor's degree from Southwest Baptist University in Bolivar, Mo. He earned a master's degree and a doctorate from New Orleans Baptist Theological Seminary.

He served as a pastor for more than 29 years in Missouri, Louisiana and Oklahoma. He was pastor of Northwest Baptist Church in Oklahoma City from 1982-96. He has served on the Southern Baptist Convention executive committee and resolutions committee, and served as chair for the SBC committee on committees, Baptist Faith and Message family study committee, and the stewardship/Cooperative Program ad hoc committee. He currently serves as president of the SBC executive director fellowship.

Massey earned a bachelor's degree from Southeastern Oklahoma State University in Durant. He was appointed as a state regent in Oklahoma higher education by Governor David Walters in April 1992 and reappointed by Governor Frank Keating in 2001 for a nine-year term.

He was elected as a State Representative in 1960 while a senior in college and served two terms. In 1964, he was elected State Senator and served two terms in the Senate also. Massey serves as chairman of the Advisory Board of the Oklahoma Small Business Administration and also serves on the board of directors of the Oklahoma State Chamber of Commerce.

Massey is active in several civic and professional organizations and has served on the Ethics Commission, the Oklahoma Historical Society Board, and the Securities Commission. He was inducted into the Oklahoma Hall of Fame in 2002.

Those interested in contributing to the Anthony Jordan Endowed Scholarship may contact Bill Holley, OBU interim vice president for development, at (405) 878-2717 or bill.holley@okbu.edu.