Winter Grads Challenged To Serve
December 19, 2008
Challenged to serve others and change the world, 59 Oklahoma Baptist University graduates received their diplomas during the university's Winter Commencement Friday afternoon, Dec. 19, in OBU's Raley Chapel.

"There are keys to life we cannot have taught you in the classroom," Karen Cotter said during the Convocation address. "But, hopefully, we have given you tools to accomplish your dreams and pursue your passions."
For chapel messages, follow this link.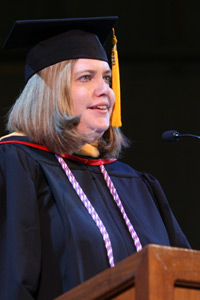 Karen Cotter challenges OBU's 59 graduates to serve others and change the world during her address at the university's Winter Commencement Dec. 19 in Raley Chapel. Cotter, OBU assistant professor of nursing, received the university's 2008 Most Promising Teacher Award.

Cotter, OBU assistant professor of nursing, received the university's 2008 Most Promising Teacher Award. The 1994 OBU graduate said when she considered what was most valuable to her as a Christian, a nurse and a teacher, she thought of service - service to others, the community, to her profession and to the world.

She used the word "SERVE" as an acronym representing graduates' opportunities for the future: Savor, Engage, Reach out to the world, Visit the world, and continue Education. Beginning with the letter S, Cotter encouraged the Class of 2008 to savor the time they spent on Bison Hill, including relationships with fellow students and faculty.

Referring to OBU's mission statement which says, in part, that OBU students and graduates are prepared to "engage a diverse world," Cotter told the graduates to engage - to continue to ask questions and to strive to go beyond the status quo. She culled advice from author Joachim Posada and from Randy Pausch, the late Carnegie Mellon University professor noted for his "last lecture" to his children and students before his untimely death at age 47. Cotter said one of Pausch's observations was that time spent whining was counter-productive to success.

"In following the words of Posada, set your goals clearly, surround yourself with supportive people, and strive to pursue your passions," Cotter said. "Following the advice of Pausch, no whining. Work hard, and you will find yourself in position for success and accomplishment."

Cotter told the graduates to reach out to people different from themselves. She referred to the Gospel of Matthew, where Christ's followers are instructed to care for others as if caring for Jesus Himself. She also told graduates to visit the world, their reminder for the letter "v" in the word "serve." She conveyed her opportunities to visit Brazil and the tsunami-struck region of Indonesia to serve others with her nursing skills and - despite a language barrier - to instruct young nurses with her teaching skills.

"I was able to use my gifts and knowledge on the other side of the world, and in a different language, and yet I was connected because of our shared calling of serving others' physiological needs," she said. "Visit your world, and share your skills - you may find yourself surprised by your abilities and knowledge that would be valuable and helpful to others."

Although the event marked the end of their education at OBU, Cotter directed the graduates to continue their education both formally and informally.

"You should pursue further avenues of education," she said. "Embrace a mindset of lifelong learning as you progress through your careers.

Cotter's message came from a personal practice of service: she has been honored with the Outstanding Community Service Award from the College of Nursing at the University of Oklahoma, and in 2004, she was inducted into Sigma Theta Tau, the International Honor Society for Nurses, as a Community Leader.

Ron Fannin, associate executive director of the Baptist General Convention of Oklahoma, told the graduates more than 1,750 Oklahoma Baptist churches had invested more than $11 million in OBU during their four years on the campus.

"They do this because they believe in you as a student," Fannin said. "They believe in Christian education, and they believe in spreading the Gospel of Jesus Christ. We know that you have worked hard during these university days, coming to this moment at graduation, and we commend you, we thank you, and we pray for you as your future begins."

In his first Commencement as OBU's 15th president, Dr. David W. Whitlock charged the class to remember that they carry the distinction of being OBU graduates.

"We have sought to instill within you an honest awareness of yourself and the world around you," Whitlock said. "We have sought to strengthen your commitment to Christ. We have sought to equip you with the ability to think with a knowledge base that provides content for sound decision-making. We have sought to impart to you the heart to care and the spirit to try to do something to make the world a better place.

"You are recipients of a rich heritage," he said, noting the university's nearly 100-year history.

Four graduates achieved the scholastic predicate Summa Cum Laude for maintaining at least a 3.95 grade point average on all work offered for their degrees. They are Sarah Chloe Freeman, from Stillwater, Okla.; Sarah Marie Krueger, from Piedmont, Okla.; Melinda Sue Merriman, from Smithville, Mo., graduating with college honors; and Andrea Dawn Selfridge, from Shawnee.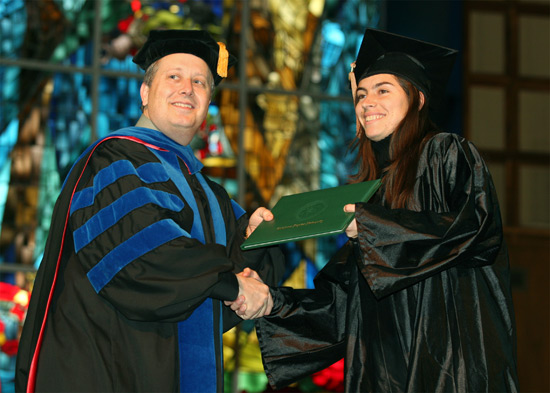 Graduate Aline dos Santos (right), a communications/business administration major from C