Board Sets 2009-10 Costs, Approves Building Naming
December 5, 2008
Meeting in the midst of the Christmas season, OBU's board of trustees looked forward to next summer, approving the university's costs for the 2009-10 academic year during their fall meeting on campus Dec. 5.

Trustees also voted to name the university's track and field building in honor of a 1956 OBU graduate, and approved senior faculty status for three professors.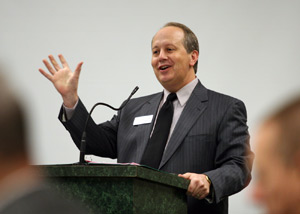 "We are standing on the shoulders of giants in Oklahoma Baptist life. Their vision and their stewardship led to the birth of Oklahoma Baptist University" said OBU President David Whitlock in his state-of-the-university address to OBU trustees Dec. 5. "Today, you and I are the stewards of that vision. We are committed to building on it and that commitment brings enthusiasm, and great anticipation."

In setting tuition, fees and room and board costs for the 2009-10 academic year, the board approved a 5.2 percent overall cost increase. The charges for a full-time student during the next academic year will be $23,134, a $1,144 increase over the 2008-09 year. Tuition and fees for next year will be $17,624, a $834 increase over the current total of $16,790.

Trustees have traditionally approved student costs for the next fiscal year at their spring meeting, but university officials requested an accelerated approval process to allow current and prospective students more advance notice regarding OBU costs.

In his first address to the board of trustees as OBU president, David Whitlock said there is a sense of anticipation for the institution as it nears its centennial year in 2010.

"We anticipate great things in 2009 and beyond," said Dr. Whitlock, who began serving as president on Nov. 1. "We anticipate continued enrollment growth for 2009-2010.

"We also anticipate continued academic success for our students," he said. "This fall we have seen students succeed in the classroom and in regional competitions. Our students continue to be well prepared for graduate study."

The president also reported on campus improvement projects, including ongoing renovation of OBU's WMU Memorial Dormitory. The women's housing facility, which opened in 1928, is closed for the 2008-09 year for major renovation.

"It's hard to believe, but we discovered that when the building was constructed, the architects and construction crew failed to pull fiber optics through the facility or install wireless routers for the Internet," he quipped. "Residential life is critical to the OBU experience. After students determine that a university has quality educational offerings, their shift goes suddenly to 'what will I be doing outside of class, and where will I be living?' "I anticipate that in the coming months we will be asking the board to approve plans for additional renovation and improvements of campus housing facilities," Whitlock said.

In other business, trustees approved a proposal to name the university's track and field facility the Jay P. Chance Track Building. Dr. Chance, a 1956 OBU graduate, was a standout member of OBU's track team, and has supported the track program financially for many years, creating an endowed scholarship for track student-athletes. The building, located just east of the intersection of Airport Road and University Street, houses coaches' offices, locker rooms and an indoor practice facility for the university's track and field and cross country teams.

Also in board business, three faculty members were approved for senior faculty status, allowing continuous contracts for those faculty. Those approved were Dr. Paulette Belshe, assistant professor of education; Karen Cotter, assistant professor of nursing; and Dr. Benjamin Myers, assistant professor of English.

In preparation for the university's centennial celebration, board members approved OBU's 2009-10 and 2010-11 academic calendars. Fall semester classes will begin Aug. 26, 2009, with winter Commencement on Dec. 18. Spring semester classes will begin Feb. 1, 2010, with spring Commencement May 22. For the 2010-11 year, fall semester classes will begin Aug. 25, with winter Commencement Dec. 17. The 2011 spring semester will begin Jan. 31, with spring Commencement May 21.

Richard Streeter, chairman of the 33-member board, moderated the board's plenary session. Streeter is a financial planner who resides in Claremore.

The meeting was the first for eight new OBU trustees who were elected to their posts during the Baptist General Convention of Oklahoma annual meeting in mid-November. The new trustees are Dr. Reagan Bradford, a medical research consultant from Oklahoma City; Greg Clifford, an Oklahoma City businessman; Dr. Danny Frazee, pastor of Wilmont Place Baptist Church in Oklahoma City; Scott Hamilton, pastor of First Baptist Church in Hinton; Dr. Tony Lambert, pastor of First Southern Baptist Church of Del City; Dr. Jeff Moore, pastor of the First Baptist Church of Altus; Dr. Mike Rader, a dermatologist from Elk City; and Lloyd White, a petroleum engineer from Oklahoma City.