OBU Student Experiences Crime and Culture
November 14, 2008
Jon King spent 15 months going above and beyond the traditional classroom learning experiences. Pursuing a psychology major and Asian studies minor, the Oklahoma Baptist University junior from Dallas spent his sophomore year studying in Japan. When he returned to the United States, he began an internship with the Dallas Police Department's homicide unit. 

King's study at Japan's Seinan Gakuin University was an Asian immersion. He took six classes each week of Japanese language along with classes about Japanese art, history and literature. "I learned a lot about the culture," King said.

Along with his heavy course load, King was involved with the university's swimming and soccer teams. The experience has carried over on Bison Hill, as he now plays for OBU's soccer team.

King worked with the OBU study abroad program to plan his educational experience at Seinan Gakuin. The universities have had a long-standing educational exchange partnership. He credited OBU with helping him acquire the scholarships he needed to go. Once there, he learned how to maneuver in his new environment independently.

"Being the only one from OBU and being alone taught me a lot about responsibility," King said.

Living in Fukuoka, he studied with many Japanese students, becoming acquainted with them and their culture. Two of his Japanese friends now study at OBU through the partnership program.

The transition back to the U.S. brought King another unique learning opportunity. While he has a keen interest in Asian culture, his academic plans include earning a master's degree in criminology. That desire inspired him to seek a summer internship with the homicide unit of one of America's largest police departments.

"I thought the internship would be a good opportunity because I think detectives have a good understanding of the criminal mind," King said.

Working with the unit allowed King to experience many aspects of the department. He observed interrogations of witnesses and suspects, visited crime scenes, rode along with a detective on several calls, and watched the crime scene lab process evidence.

"I loved going to the crime lab and seeing how they compare evidence," King said.

Although his major does not require an internship, King received three credit hours for his summer experience.

"My psychology and sociology classes at OBU helped me understand the psychological aspects that go into a homicide detective's work," King said. "It was a great opportunity. I got to work with the best detectives Dallas has to offer. It changed my view on life in many ways."

King gained the experience after e-mailing the Dallas Police Department last spring about the possibility of doing an internship. The inquiry paid off.

"Through the practicum he was able to experience the direct connection between the study of psychology and human behavior in a real world setting," said Canaan Crane, OBU assistant professor of psychology and King's faculty adviser. "He also received the added benefit of making professional contacts and establishing some credibility in a field that interests him."

With his new-found insights into Japanese culture, and a heightened understanding of the criminal mind, King has settled into campus life again, aiming toward graduation in 2010.

"I learned so much, but I'm glad to be back at OBU," he said.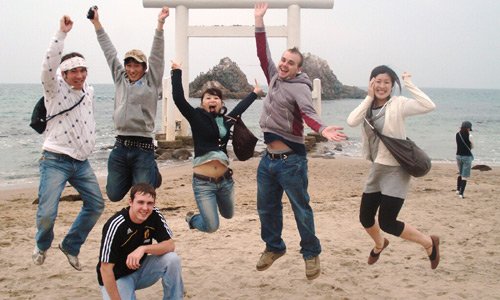 Jon King (left) has fun at a Japan beach with some of his new friends. Between his studies, King took every opportunity to explore Japan and learn about the culture.