OBU Music Theater Scenes Presented Nov. 21-22
November 18, 2008
Thirteen OBU students will perform various comedic scenes from operas and musicals that revolve around the interesting and often humorous dynamics found in families during OBU's annual Music Theater Scenes Program Friday, Nov. 21, and Saturday, Nov. 22, at 7:30 p.m. in Raley Chapel's Yarborough Auditorium.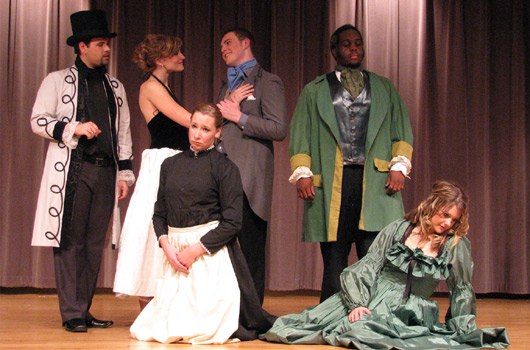 The program will be presented under the direction of Dr. Mark McQuade and Dr. Louima Lilite, OBU assistant professors of music. Dr. Keith Whitmore, OBU instructor of music and staff accompanist, will join Lilite as an accompanist for the event.
The performance is the result of students' studies during their Music Theater I class this fall semester.
"This type of 'scenes' program allows them to get stage performance experience in different styles and genres without the extensive technical work of a full production," McQuade said. However, "as part of this production, we are doing a complete work. The opera 'Signor Deluso' by Thomas Pasatieri will be presented in its entirety."
"Other works presented in the program include scenes from Rogers and Hammerstein's Cinderella, 'Cosi fan tutte' and 'Le nozze di Figaro' by Mozart, and the Broadway hit 'Wicked,'" McQuade said. "The program offers something for listeners of all ages!"
The 13 OBU students singing in the scenes are: Melissa Argo, a sophomore from Gallup, N.M.; Charles Bullard, a sophomore from Oklahoma City; Aaron Foshee, a senior from Jones, Okla.; Sarah Graham, a sophomore from Ponca City, Okla.; Jacqueline Graves, a sophomore from Marland, Okla.; Suzanne Herber, a senior from Shattuck, Okla.; Kat Hunter, a freshman from Owasso, Okla.; Lacy Hutchinson, a junior from Longview, Texas; Jonathan Livingston, a freshman from Bixby, Okla.; Meghan Loyd, a sophomore from Fort Smith, Ark.; Kathryne Overturf, a junior from Fort Smith, Ark.; and Courtney Tice, a sophomore from Oologah, Okla.
Tickets are $5 for adults and $3 for students, with children under 10 getting in free. They can be purchased in advance in the Fine Arts Office in Raley Chapel or at the door.