Harvest Court Honors Outstanding Seniors
February 4, 2008
Oklahoma Baptist University will honor outstanding seniors at the annual Harvest Court ceremony Nov. 7 at 8:30 p.m. in Raley Chapel as part of OBU's Homecoming celebration. The public is invited to attend this free event and the reception following the festival in honor of the Harvest Court winners.

Senior students were nominated by their peers in six different categories: harvest king, harvest queen, best all-around man, best all-around woman, most servant-like man and most servant-like woman. The student body will vote on the finalists and the winners will be announced during the Harvest Court ceremony.

Harvest Court finalists include; Harvest King: Orrey McFarland, a Biblical language major from Fletcher, Okla., Scott Ramsey, Bible major from Fredericksburg, Texas, and Bible major, Peter McCorkle from Sand Springs, Okla.

Harvest Queen: Lacy Abbott, an art education major from Shawnee, Okla., English and public relations double major Mackenzie Hufty from Hannibal, Mo., and vocal performance major Katie Overturf from Fort Smith, Ark.

Best All-Around Man nominees include: Chad Taylor, a math major from Holdenville, Okla., marketing major Peter Wilson from Bethany, Okla., and Evan Chambers, an English education major from Redmond, Wash.

Best All-Around Woman: applied communications major Rachel Piontak from Catoosa, Okla., Courtney Ingram, an applied ministry major with an emphasis in children's ministry from Norman, Okla., and Caroline Patterson, an anthropology major from Galveston, Texas.

Most Servant-Like Man: Drew O'Gywnn, a history major from Shawnee, Okla., biblical languages major Brian Levings from Perry Okla., and Bible major Corey DeGiacomo from Inola, Okla.

Most Servant-Like Woman: Hannah Lapo, a social science education major from Bixby, Okla., Becca Murdock, an elementary education major from Clarksville, Ark., psychology pre-counseling major Dayla Rowland from Chelsea, Okla., and Bible major Lara Cobb from Seminole, Okla.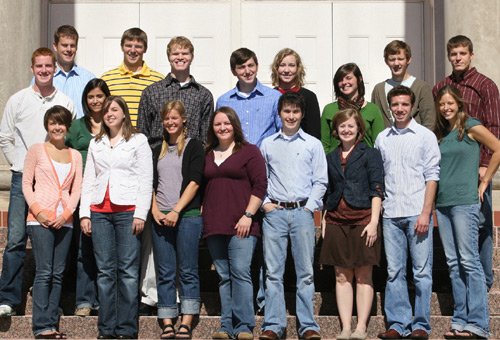 The senior Harvest Court nominees (from left to right): First Row: Lacy Abbott, Hannah Lapo, Rachel Piontak, Dayla Rowland, Chad Taylor, Courtney Ingram, Corey DeGiacomo and Caroline Patterson. Second Row: Peter Wilson, Lara Cobb, Scott Ramsey, Orrey McFarland, Katie Overturf, Mackenzie Hufty, Evan Chambers, and Brian Levings. Third Row: Peter McCorkle and Drew O'Gwynn.