OBU Theatre Wins Awards, Advances in Competition
October 20, 2008
For the first time in Oklahoma Baptist University theatre history, a production by the campus' theatre department has been recommended to advance to Regional Competition in The Kennedy Center American College Theatre Festival. Final results will be announced in December.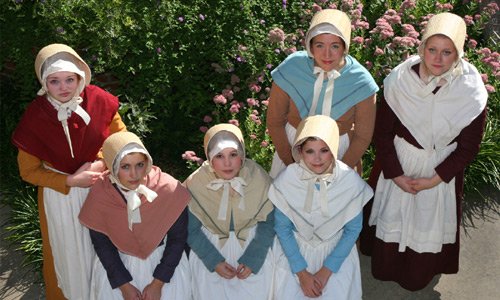 The university's recent production of "As It Is In Heaven," written by playwright Arlene Hutton and directed by Dr. Laura Byland, OBU associate professor and director of theatre, received positive recognitions from the festival judges who attended a regular performance of the play. The cast and crew of the play received "Excellence in Directing," "Excellence in Design," and "Excellence in Ensemble."

"I'm very honored and humbled to have been a part of this production because we all created this theatre together," Byland said. "There was not one person who stood out. Winning 'Excellence in Ensemble' says it all."

Three actors in the production received Irene Ryan Acting Scholarship nominations to audition at the regional competition: junior Katie Tyner from Moore, Okla., junior Lacy Hutchinson from Longview, Texas, and freshman Cylie Hall from Norman, Okla. The Irene Ryan Scholarships provide recognition, honor, and financial assistance to outstanding student performers wishing to pursue further education. The nominated actors will perform a monologue and a scene apart from their nominated production at the festival.

College theatre groups must select what production to enter into the contest before the play is actually produced. With funding by the Kennedy Center, the festival is judged on state, regional and national levels. Oklahoma had on-site adjudication this year, with adjudicators attending performances of the production entries. When selected to advance to regional-level competition, the entire cast and set must be transferred to the festival.

"We entered 'As It Is In Heaven' in August because it is an ensemble piece, a contemporary playwright and a small-unit set," Byland said.

OBU's theatre department falls into Region VI which includes universities and colleges in Arkansas, Louisiana, New Mexico, Oklahoma and Texas. The Region VI festival will be held Feb. 24-28, 2009, at Texas State University in San Marcos. Regional festival productions are judged by a panel of three judges selected by the Kennedy Center and the festival's national committee. These judges, in consultation with the Artistic Director, select four to six of the best and most diverse regional festival productions to be showcased in the spring at the annual non-competitive national festival at the John F. Kennedy Center for the Performing Arts in Washington, D.C.

Started in 1969 by Roger L. Stevens, the Kennedy Center's founding chairman, the Kennedy Center American College Theater Festival (KCACTF) is a national theater program involving 18,000 students from colleges and universities nationwide which has served as a catalyst in improving the quality of college theater in the United States. Since its inception, KCACTF has given more than 400,000 college theater students the opportunity to have their work critiqued, improve their dramatic skills and receive national recognition for excellence. More than 16 million theater-goers have attended approximately 10,000 festival productions nationwide.

The Irene Ryan Foundation awards 19 regional awards and two fellowships annually. Irene Ryan (1902-1973) was an Emmy- and Tony-Award nominated actress who found success in vaudevill, radio, film, television and Broadway. She is most widely known for her portrayal of "Granny" on the long-running TV series "The Beverly Hillbillies." Having no surviving relatives, Ryan began the Irene Ryan Foundation for aspiring actors.