Bison Bicycle Classic Raises Money for Shawnee Habitat for Humanity
October 7, 2008
The 2008 Bison Bicycle Classic was held in Shawnee Saturday, Oct. 4, with 10-, 26-, and 50-mile tours and a 50-mile timed race. Nearly 120 riders from all over Oklahoma participated in this year's event, which raised money for the Shawnee chapter of Habitat for Humanity.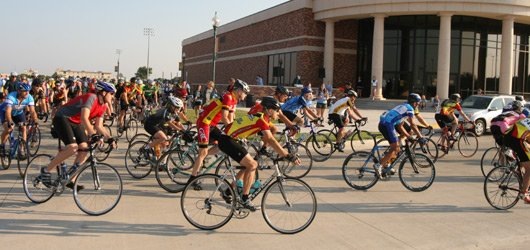 The men's race featured a three-man breakaway which determined the final result. Erin Elliot of Fossil 1 Racing crossed the finish line in first place, followed by Chris Parks of the Pedalers Racing Team in second place, and Duke Kern of Fossil 1 Racing in third. The women's event featured a sweep of the first three places by the OKC Velo Women's Racing Team. Lesli Cappo placed first, followed by Tamie Sanders, second, and Donna Rice, third.

The race also featured the first appearance of the new OBU Cycling Team, a collegiate team from Oklahoma Baptist University. Team members placing in this year's event were Mason Mattocks (4th), James Gonzales (13th), and Tyler Geohagen (19th).

Primary sponsors for the 2008 Bison Bicycle Classic were the Greater Shawnee Area Visitor's and Convention Bureau, Oklahoma Baptist University, The Bicycle Shoppe, and Pottowattomie County Pedalers. Other sponsors for the event included: ARAmark, Brandon R. Bowers, D.D.S., Christian Motorcycle Club of Shawnee, Dave's Donuts, Harrison Discount Pharmacy, L&H Janitorial Service, Shawnee Fire Department, React, Shawnee Milling, Shawnee Police Department, Shawnee YMCA, Tom Flora Photography, Tony Fitzgerald Engraving, Unity Hospital, The Vineyard Fruits and Vegetables, Blackburn Chapel, Emmanuel Baptist Church, South Rock Creek Baptist Church, and the VFW Women's Auxiliary 1317.