Professor Emerita Nancy Montgomery Dies at 91
September 29, 2008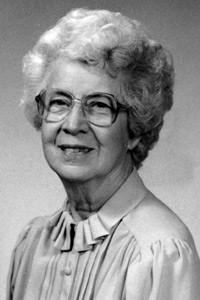 Longtime Oklahoma Baptist University professor Nancy Montgomery died Monday morning Sept. 29, in Shawnee. She was 91.

Born Aug. 17, 1917, in Phelps County, Mo., Montgomery was reared in Bartlesville, Okla., graduating from Bartlesville High School in 1935. She enrolled at OBU as a voice major and performed with the University's women's quartet, "The OBUtifuls," for throughout her four-year student career. She was selected OBU's Most Popular Woman as a junior, and crowned Harvest Queen as a senior. She completed a bachelor of fine arts degree in 1939.

After teaching music in Kansas schools for two years, Montgomery attended the American Conservatory of Music in Chicago, Ill. She resided in Chicago for nine years, directing three choral groups, performing in a variety of roles, and working at the University of Chicago for seven years. She moved to New York City in 1950 and completed a master's degree from Columbia University in 1953. She also completed graduate study at several institutions, including the University of Oklahoma, Oklahoma State University, the University of Indiana, and the University of Illinois.

Montgomery returned to OBU in 1955 as assistant professor of music, teaching voice, music education, and music appreciation. She also was dorm director for the former Shawnee Apartments housing facility at the corner of Airport Road and University Street. She frequently performed in plays and musicals on campus and in the local community.

In 1973, Montgomery began working with the OBU Listening Lab, and became full-time supervisor of the lab in 1979, filling that role until her retirement in 1987. OBU trustees voted to name her professor emerita of music in 1991.

Montgomery was a member of the Music Educators National Conference, the National Association of Teachers of Singing, the Shawnee Fine Arts Club, and Altrusa.

An active member of the First Baptist Church of Shawnee, she taught children's Sunday School, worked in the church's nursery, and was active with the Woman's Missionary Union.