OBU Theatre Presents 'As It Is In Heaven'
September 19, 2008
Featuring an all-female cast and filled with traditional Shaker hymns and dance, the Oklahoma Baptist University theatre program will launch its 2008-09 season with "As It Is In Heaven." The play will be presented Oct. 3, 4, 10 and 11 at 7:30 p.m., and Oct. 12 at 2:30 p.m., with all performances in OBU's Craig-Dorland Theatre located in Shawnee Hall.

"As It Is In Heaven," written by Arlene Hutton, captures a piece of the American past with an empathetic, yet clear-eyed, perspective of a religious community. Using "Hands to Work, Hearts to God" as their motto, Shaker sisters find themselves at odds with one another when the structure and discipline of the community is threatened.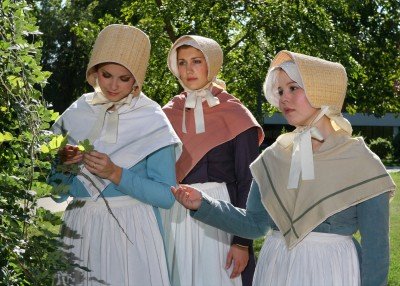 Hutton, who lives in New York City, visited the OBU campus Sept. 3-5 to assist the theatre department in preparing for the play. She provided insight into her motivation for writing the play, information about the Shaker community to both the theatre department and OBU classes, and presented a community lecture about how a playwright incorporates history into a production.

The playwright said while she enjoys seeing her works presented by college troupes, she finds even more joy in participating in the process of preparing the plays.

"Working with students, I always see something in the play I've never seen before," Hutton said. "I'm always astonished how deeply they get into characters and how hard they work on the play - and that they would even find a group of women in the 1800s interesting."

In the OBU production, nine Shaker sisters are played by Lacy Hutchinson, a junior from Longview, Texas; Kacy Southerland, a sophomore from Oklahoma City; Taunia Logan, a senior from Perryton, Texas; Laura Simma, a freshman from Pawnee, Okla.; Katherine Wortley, a sophomore from Fort Smith, Ark.; Cylie Hall, a freshman from Norman, Okla.; Katie Tyner, a junior from Moore, Okla.; Reji Smith, a junior from Grapevine, Texas; and Dr. Joyce Spivey Aldridge, OBU's associate professor of theatre.

Tickets can be purchased by calling the OBU Box Office at (405) 878-2347 or visiting the box office located in Sarkeys Telecommunication Center. Tickets are $8 for adults, $6 students and $5 for children age 12 and younger. Season tickets are $25 for adults, $20 for students and $15 for children age 12 and younger.