Trustees Honor Hurt Legacy
July 18, 2008
One of Oklahoma Baptist University's most acclaimed athletic figures will have his name attached to one of the university's newest athletic facilities, as OBU trustees approved naming of the Eddie Hurt Jr. Memorial Track Complex on Friday afternoon. 

In their summer meeting in OBU's Bailey Business Center, trustees also approved contracts for 14 new faculty members, accepted a proposed expansion of housing visitation policies, and heard reports on enrollment and fund raising efforts.

John W. Parrish, OBU's interim president, told the board members the university anticipates its highest enrollment since 2003. The university's 2007 fall semester headcount was 1,607. In his state-of-the-university address, Parrish said OBU officials expect this fall's headcount to approach 1,750. The total should include more than 500 new students.

"Our fiscal year closes in 13 days but we already have established a new fiscal year giving record," Parrish said. "We will exceed the previous record by almost $1.9 million."

In early July, gifts for the 2007-08 fiscal year topped the $9 million mark, the first time in the university's history for annual support to surpass that mark. The total does not include nearly $3 million OBU has received in the current year from the Baptist General Convention of Oklahoma.

The overall giving total includes significant gifts from 1941 OBU graduate Lawrence Harris. The oil and gas businessman, who resides in Roswell, N.M., contributed funds to bring two OBU endowed academic chairs to operational levels, and has contributed substantial funds toward completion of the new track complex. He endorsed naming of the complex in memory of his OBU coach. Harris played football for OBU and was coached by Hurt in 1937 and 1938.

Hurt graduated from OBU in 1929. He coached track at OBU from 1935-54. He also coached football from 1935-38, and basketball from 1938-44 and 1945-47. He served as OBU's athletic director throughout his tenure and was chair of the physical education department. His track teams won 13 consecutive Oklahoma Collegiate Athletic Conference championships. He left OBU in 1954 to work with the Brotherhood Commission of the Southern Baptist Convention. He returned to OBU in the 1970s to work as a part-time development officer. Hurt died June 8, 1996.

"Personally, I cannot think of anyone more deserving to be honored in this manner than Eddie Hurt," said Parrish.

The gift from Harris will be used for purchase and installation of track grandstand seating for 1,000 people, construction of a brick and wrought-iron security fence around the complex, construction of a brick restroom/storage/concessions building, brick veneering of the current track building at the corner of University Street and Airport Road, additional sodding and signage, and installation of an electrical system and a new timing system.

Parrish concluded his remarks noting that his term as interim president has been a busy period. The longtime OBU administrator, who retired in 2002, assumed the university's chief leadership role in November 2007, following the retirement of OBU President Mark Brister.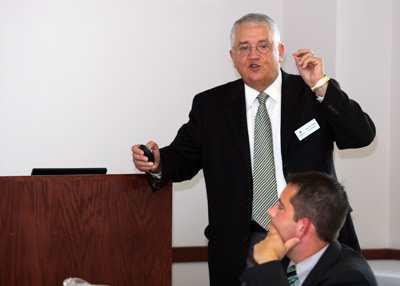 John W. Parrish, OBU interim president, gives his state-of-the-university report to trustees during the board's summer meeting on campus July 18.


"In my opinion, we've had a progressive eight months of interim," he said.

"I want you to know that OBU is alive and well. We are moving forward. We are growing," Parrish said. "Our faculty and staff are positive and supportive. The OBU family is firmly committed to the mission of this great institution. We have a great heritage and we have a great future."

Board member Stephen Allen, who is chairman of the presidential search committee, gave trustees an update on the committee's work.

"Since we last met in March, the presidential search committee has met on a regular basis. We have great discussion and great deliberation. We have started the interview process," Allen said. "We anticipate that, after continuing to narrow the focus, once a candidate has been identified that is one we'd like to bring to the board of trustees, we will bring the candidate to campus for an opportunity to meet with faculty council, administrative staff and leadership and student body leadership, and to get to know the people in the community.

"As much as we would like to have one, we don't have a timeline," he said. "We know how critical and how important this decision is. We don't want to rush the decision in order to meet expectations as to getting a president in in a certain time period. We want God's man and we understand that sometimes God's timing is different than our timing. We don't know when that will be, but we are pursuing it with diligence."

The board approved contracts for 14 new faculty, including Jennifer Allen-Ayers, assistant professor of English; Dr. Tonia Crane, assistant professor of education; Dr. Carolyn Gregory, assistant professor of education; Dr. Terry James, assistant professor of education; Dr. David Nagle, assistant professor of German; Radonna Roark, instructor of French; Tony Yates, assistant professor of natural sciences; Dr. Vicki Ellis, associate professor of communication; Louima Lilite, assistant professor of music, Dr. Jennifer McQuade, assistant professor of music; Gerald Milligan, assistant professor of nursing; Krista Ranck, instructor of nursing; Valerie Watts, assistant professor of nursing; and Jennifer Barnett, instructor in OBU's Intensive English Program.

Trustees ratified a new dormitory visitation policy, extending visiting times for those of the opposite sex. Visiting times will be 2-11 p.m. Fridays, 2-11 p.m. Saturdays, and Tuesdays from 4-11 p.m. This expands from 6-11 p.m. on alternating Fridays for men's and women's dorms, and 1-5 p.m. one Saturday per month. The new schedule will become effective on a trial basis during the university's fall 2008 semester.

Trustees also approved renewal of an educational exchange agreement with St. Gregory's University. The two Shawnee institutions previously participated in a similar agreement, but had discontinued the exchange in recent years. The annual agreement allows students to take a limited number of courses at the partner institution.

In other business, the board approved strategic planning assumptions and goals. The assumptions and goals were developed by university personnel for use in OBU's annual strategic planning process. Trustees also approved conflict of interest and anti-fraud policies governing board members, and OBU officers and employees.

The board elected the slate of officers for the upcoming board year, which begins in mid-November. Richard Streeter, a financial planner from Claremore, will serve as board chairman for the 12-month term. Kevin Clarkson, pastor of the First Baptist Church of Moore, will serve as vice chair/chair elect of the board. Board secretary will be Lisa Fillmore, a pharmacist from Ada.

Dr. Alton Fannin, pastor of the First Baptist Church of Ardmore, presided at the meeting. Fannin currently serves as chairman of the board.