Bass Headed to Oklahoma Sports Hall of Fame
July 15, 2008
Legendary OBU men's basketball coach Bob Bass will be one of four men inducted into the Oklahoma Sports Hall of Fame August 18.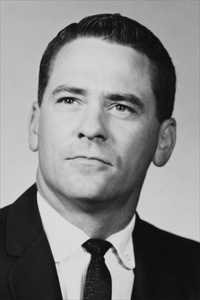 Bass, while coaching at OBU
The 1950 OBU graduate will be joined by Langston football and basketball coach Caesar "Zip" Gayles, Oklahoma State wrestling great Jack VanBebber, and major league pitcher Eddie Fisher for the 2008 induction ceremonies at the National Cowboy and Western Heritage Museum.

The Hall of Fame's Honors Committee selected the four from a list of more than 140 nominees.

In 1952, Bass was named head coach at OBU, where he would spend the next 15 years. His teams posted a record of 275-143 (.659), won six conference titles and made six trips to the NAIA Tournament. The Bison won the NAIA Championship in 1966 and Bass was named NAIA Coach of the Year.

After two seasons at Texas Tech, the two-time NBA Executive of the Year made the leap to the professional ranks. All told, he spent 54 consecutive seasons as a coach or executive in the high school, collegiate and professional ranks, including the last nine with the NBA's Hornets.Bass was involved in the careers of some of the greatest players in NBA history during his career, including George Gervin, David Robinson, Artis Gilmore and Alvin Robertson.

Bass joined the Hornets prior to the 1995-96 season as vice president of basketball operations. He was promoted to executive vice president of basketball operations in the summer of 1997 after he was named NBA Executive of the Year the previous season.

When he joined the Hornets, Bass brought more than three decades of professional basketball experience with him, including 20 years with San Antonio. Bass served the Spurs in a variety of capacities, including five seasons as head coach, compiling a 144-108 record and leading the team to the playoffs four times. Bass also made his mark during his 18 years in the team's front office, where he was responsible for the acquisition of several Spurs legends, including Robertson and Robinson. He was named NBA Executive of the Year for the 1989-90 season after the Spurs posted a franchise-best 56-26 record.

Prior to his time with the Spurs, Bass spent six years in the ABA. He spent two seasons each as head coach of the Denver Rockets (1967-68) and Miami Floridians (1970-72) and one season as head coach of the Memphis Tams (1972-73). In addition, Bass spent the 1973-74 season as the ABA's director of officials.

Bass began his coaching career in the high school ranks at Cromwell High School.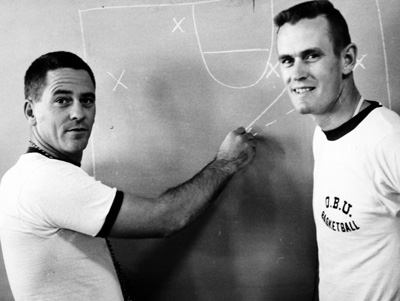 Bass, left, with his asssistant coach, Gene Wallace, led OBU to three national title games.