McWilliams Fills Dean's Post; McGough Accepts Pastorate
January 18, 2008
Two members of Oklahoma Baptist University's School of Christian Service faculty returned to familiar settings in mid-January.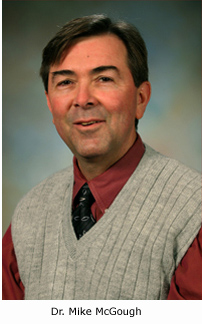 Dr. Mike McGough, who had served as dean of OBU's Joe L. Ingram School of Christian Service since January 2007, resigned from the OBU academic team to accept the pastorate of the First Baptist Church of Niceville, Fla. The church in Florida's panhandle licensed and ordained McGough to the gospel ministry in 1976.

With McGough's departure, Dr. Warren McWilliams, OBU's Auguie Henry professor of Bible, moved to the post of interim dean of the School of Christian Service. It is the longtime professor's third stint as interim dean of the school.

For McGough, it was a return to the church where he grew up. His family joined the First Baptist Church of Niceville, across Choctawhatchee Bay from Destin, in 1965. His parents and his sister are still members of the church.

"This is my home church, the one I grew up in," said McGough, 57, who moved to OBU just over a year ago after 19 years on the faculty of the Canadian Southern Baptist Seminary. "Moving back into the pastorate has never been far from my thinking. In fact, I felt it important that as a professor in seminary and university I would be a better teacher in the classroom if I was actively involved in the 'real' world of the local church."

McGough's last day at OBU was Jan. 11. He will begin the pastorate in Florida in early February. His wife, Nancy, also departed the OBU staff, where she served as secretary for the university's School of Nursing.

The McGoughs were appointed missionaries by the International Mission Board of the Southern Baptist Convention in 1987, assigned to the Canadian seminary. He was professor of preaching and pastoral ministry at the school in Cochrane, Alberta, and also was the seminary's alumni and placement director.

"We leave the academic world with mixed emotions," said McGough. "This has been my calling for over 20 years and they have been good ones."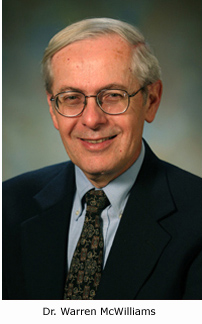 "Mike McGough was doing an excellent job of leading our faculty," said McWilliams. "We will seek to continue teaching and guiding our ministry students as they prepare for their careers of service beyond OBU. I am looking forward to working with my faculty colleagues as I have done in past interim times."

McWilliams, 61, graduated from OBU in 1968. He completed a master of divinity degree from Southern Baptist Theological Seminary, and earned both the master of arts and Ph.D. degrees from Vanderbilt University.

McWilliams joined the OBU faculty in 1976. He teaches introductory Bible courses, biblical ethics, and theology courses. He has published many books, including "Free in Christ: The New Testament Understanding of Freedom" and "Dear Chris: Letters on the Life of Faith."



In 1986, McWilliams received OBU's Distinguished Teacher Award. He also has been included in Who's Who in the South and Southwest, Who's Who in Religion, Who's Who in Biblical Archaeology and Biblical Studies, and Who's Who of Emerging Leaders in America.

McWilliams is a member of University Baptist Church in Shawnee, and is a deacon and Sunday school teacher. He serves as supply preacher and Bible teacher for churches around the state. His wife, Patty, is an OBU alumna. Their daughters, Amy and Karen, both attended OBU, with Amy graduating in 1993 and Karen in 1998.