The Bison Spirit Stands In New Wellness Center
November 20, 2007
Though it is part of the region's storied history and the mascot for OBU, a life-size Bison is not normally found indoors. But "The Bison Spirit," a sculpture of the OBU namesake, now stands in the atrium of the university's new Recreation and Wellness Center.
Noted Oklahoma artist and sculptor Harold T. Holden, from Kremlin, was commissioned to sculpt the American Bison artwork. The artwork, underwritten by NBC Bank, has been designated as an Official Oklahoma Centennial Project. In addition to being OBU's mascot, the American Bison is the state animal of Oklahoma.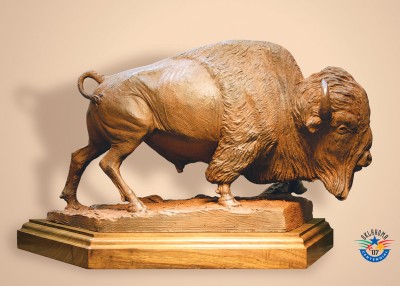 OBU was founded in 1910, after Baptist leaders in the new state accepted Shawnee's offer of 60 acres of land and a building for the new school. The land included a bison wallow. University leaders selected the Bison as OBU's mascot, and the campus, which now includes 189 acres, is known as Bison Hill.
The Bison Spirit is Holden's 12th public work of art, and the fifth to be underwritten by NBC Bank. His other works include the "Vision Seeker", a life-and-one-quarter Indian sculpture located in Altus and Enid; "Crossing the Red," located on the courthouse lawn in Altus, "The Broncho," on the University of Central Oklahoma campus, and "Boomer," also located in Enid.
OBU's Recreation and Wellness Center, opening November 29, 2007, includes three basketball/volleyball courts, aerobic equipment, racquetball courts, a 1/10-mile walking track, and a two-story climbing wall. The Bison Spirit will be displayed prominently in the atrium, at the main entrance to the center.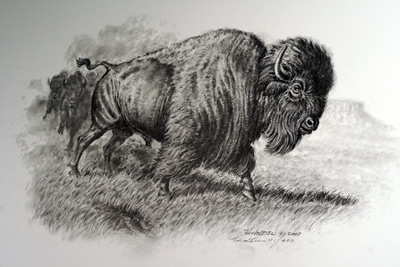 "We are delighted to have The Bison Spirit on the campus," said John Patterson, OBU senior vice president for development. "The Bison is a proud symbol of Oklahoma and OBU. This artwork is a fitting representation of our mascot. The fact that this addition to our campus coincides with Oklahoma's Centennial is especially meaningful. OBU's history is intertwined with our state's history."
Limited edition maquettes of The Bison Spirit, 16-inch replicas of the life-size sculpture, are available for purchase for $2,000 each through OBU's Office of Development. (Of the total, $1,000 is a tax deductible gift to OBU.)
Limited signed and numbered prints of The Bison Spirit by Holden are available for $50 each.
Information on purchasing a maquette or print is available by calling 405.878.2703.