Tarleton Calls Beyond The Hill
November 6, 2006
"Somewhere, sometime in your life, there is going to be somebody who is going to listen to you," said Dr. Ed Tarleton while speaking in Oklahoma Baptist University's weekly Chapel service, Nov. 1.

Tarleton, a 1982 OBU graduate, continued the university's Beyond the Hill chapel series, which features distinguished alumni from academic disciplines offered at OBU. He represented the Joe L. Ingram School of Christian Service.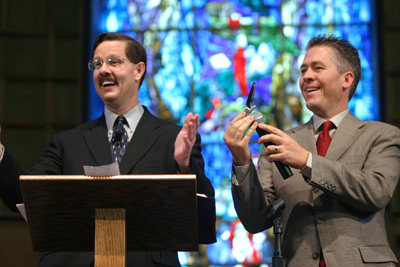 Tarleton, left, calls an alum in Russia during his Chapel address.

Making his point of random opportunity to speak, Tarleton called current OBU student Kali Byrd, who is studying in Russia.

Dale Griffin, OBU campus minister, held a microphone to the cell phone, allowing chapel attendees to listen to the conversation.

Byrd pointed out that it was 2:30 in the morning in Russia, but that did not prevent the San Antonio, Texas, native from reciting "Ka-Rip!" Byrd yelled the OBU spirit chant over the phone, provoking cheers and applause from listening OBU students.

"I think this qualifies for being 'Beyond the Hill'," said Tarleton.

Tarleton, serves as a strategy associate in central and Eastern Europe with Southern Baptists' International Mission Board. He also is a trustee for the Moscow Baptist Theological Seminary, where he was the first full-time foreign faculty member. He has served as a missionary in Russia for 13 years.

Continuing his message about being ready for opportunities to share the gospel, Tarleton told experiences on the mission field, including witnessing to reindeer herders in a village in the Arctic Circle.

"What's 'beyond the hill?' People who we might have the privilege of helping someday," he said.