Hanging of the Green' Ushers in Holiday Season Dec. 2
November 17, 2006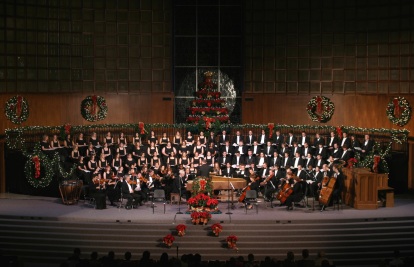 An American Christian tradition of "Chrismon" will be the focal point at one of Oklahoma Baptist University's longest running events.



The 69th annual "Hanging of the Green" service will be on Saturday, Dec. 2, at 7:30 p.m., in Raley Chapel's Potter Auditorium.

"The tradition of the Chrismon is an American tradition credited to Frances Kipps Spencer in Danville, Va.," said Rhetta Hudson, OBU assistant professor of music, who is the chair of the Hanging of the Green committee.

Hudson said Spencer observed Chrismon, which means "monogram of Christ," at her church. In 1957, the church's services had Chrismon trees, including ancient Christian symbols which date back to the origin of the first century church.

With the program titled "Symbols of Hope," the Hanging of the Green service will present trees representing symbols of Christian heritage, including The Light, the Trinity and the Horn, The Anchor Cross and Chi Rho Symbol, The Natal Cross and the Five Pointed Star, The Butterfly and The Alpha and Omega, the Dove and the Rose, The Rose of New Life, The Crown and the Crown of Thorns.

"Not only do these symbols reference Jesus, but they also can be used to explain the Gospel message, that Jesus Christ came to offer salvation to all people," said Hudson.

Peggy Askins, OBU registrar, and Dr. Dan Reeder, Minter professor of business, will be the narrators for this year's Hanging of the Green.

The event's performers include OBU's University Chorale, Bison Glee Club, the Bisonettes and the OBU/Shawnee Community Orchestra.

The first OBU Hanging of the Green ceremony was held in WMU Memorial Dormatory. After the singing of carols, representatives from all dormitories lit candles of good will from the candle there and carried the light to their own buildings.

The custom of Hanging of the Green has continued through the years. It moved in 1945 to the newly completed Brittain Hall, in 1957 to the University Auditorium, and in 1961 to Raley Chapel.



For more information, contact the OBU Division of Music at 405-878-2306, or music@okbu.edu.