Students Honored In OBU Hanging of the Green Ceremony
December 2, 2005
The 68th annual Hanging of the Green celebration at Oklahoma Baptist University will be Saturday, Dec. 3, at 7:30 p.m. This year, Handel's Messiah will be performed. The event will be in the university's Potter Auditorium and is free and open to the public.

Twenty seniors are chosen each year by faculty as honorees for the evening. According to the program's guidelines, student honorees are chosen because they "embody OBU ideals."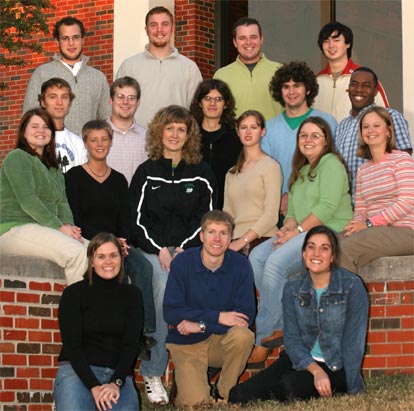 This year's seniors chosen as Hanging of the Green honorees include: (front row, left to right) Martha Highfill, a nursing major from Springdale, Ark.; Landon Willets, a marketing major from Tulsa, Okla.; Pascha Whaley, an elementary education major from Edmond, Okla.; (second row) Elise Anderson, a musical arts major from Tishomingo, Okla.; Christine Chapman, an applied ministry major from Arlington, Texas; Klemenko Tetyana Vladmirovna, a nursing major from Kiev, Ukraine; Mary Amonsen, a biology and Spanish double major from Bellingham, Wash.; Melanie Warren, a professional accountancy and finance major from Porter, Okla.; Jennifer Kennedy, a recreation administration major from Spring, Texas; (third row) Daniel Ellis, a biblical languages major from Sapulpa, Okla.; Clayton Mauritzen, a biblical languages and philosophy double major from Longview, Texas; Brad King, an English major from Altus, Okla.; Benjamin McVay, an English and public relations double major from Siloam Springs, Ark.; Michael Slaughter, a church music major from Oklahoma City, Okla.; (back row) Mark Jassey, a finance and management double major from Fairfax, Va.; Aaron Jameson, a church music major from Yakima, Wash.; Joshua Bryan, a finance major from Mustang, Okla.; and Andy Lau, a physics and mathematics double major from Chickasha, Okla.

Not pictured are Katie Cease, an instrumental music education major from Tulsa, Okla.; Emily Vanlandingham, a nursing major from Ronald, Wash.