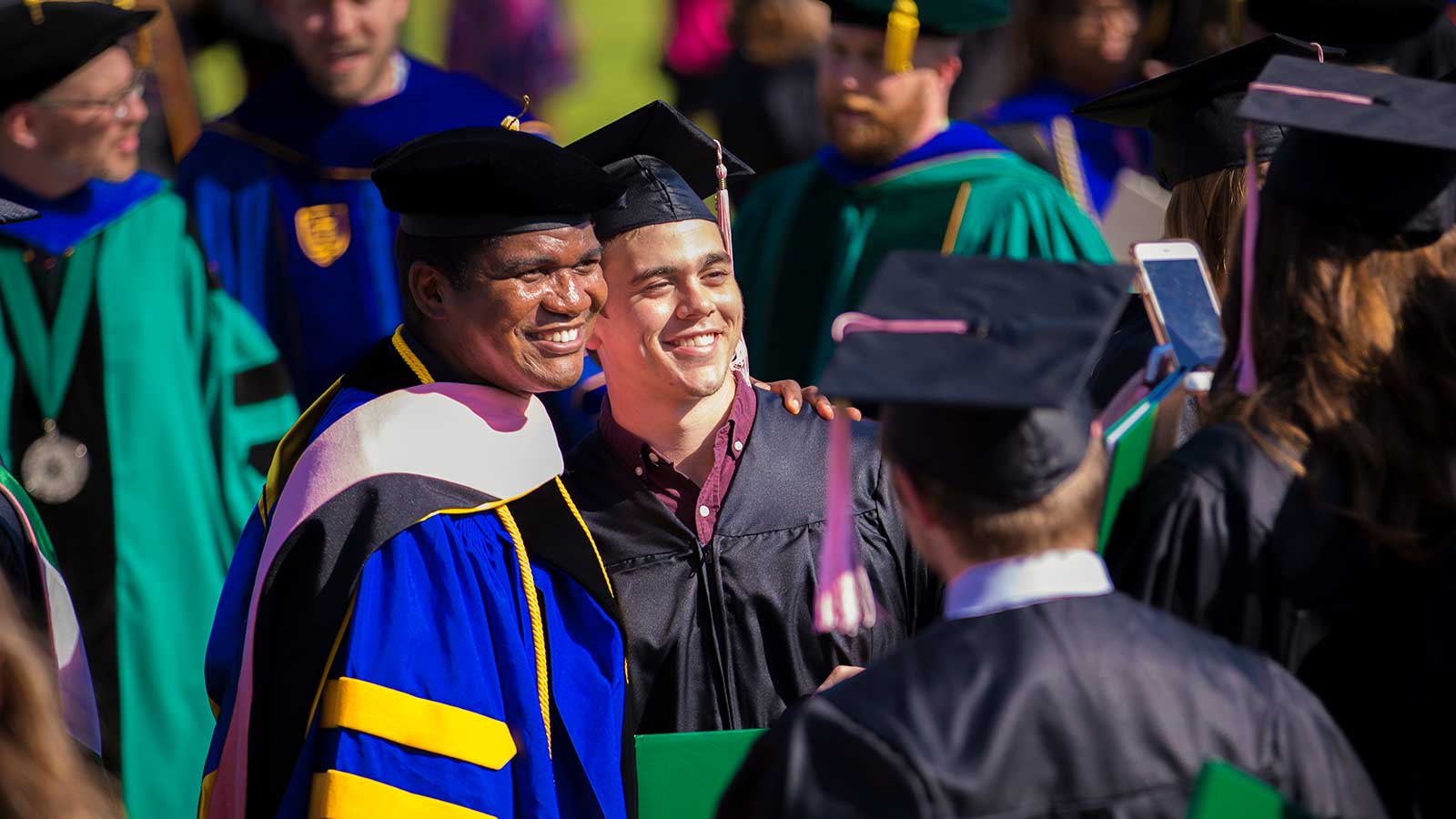 Oklahoma Baptist University values academic scholarship and the pursuit of academic excellence. Entering freshmen with qualifying scores are eligible to compete for the highest academic award at OBU, the Full Tuition University Scholarship award.
University Scholarship Application Requirements
Application for admission
High School GPA of at least 3.75
One of the following:

ACT of at least 32
SAT of at least 1420
CLT of at least 97

Letter of Recommendation attesting to your academic accomplishments.
Current resume exhibiting leadership, involvement in school, church, community, and work activities.
500–1,000 word essay addressing one of the following questions:

Familiarize yourself with the mission statement of the university. How might these concepts be strengthened through your OBU education? How might you demonstrate them in your chosen profession?
Imagine you are returning to OBU for your 10-year reunion. What are two or three of the major accomplishments you are eager to share with your class, and how will you say your OBU education helped you to achieve these goals?
Identify an educational, social or economic trend you think will have a significant impact on your chosen profession, and describe some leadership qualities you possess that will help you respond to that trend and have a positive impact on that professional field.
Document Submission
All required documents must be submitted by Friday, January 15, 2021, through one of the following methods:
Online Submission
You may submit your documents online using the University Scholar Document Submission tool. Documents must be in .pdf, .doc, or .docx format, and must be submitted by 11:59 p.m. on the due date.
Mail Submission
Documents must be postmarked by the due date and sent to:
OBU Office of Admissions
500 W University
Box 61174
Shawnee, OK 74804
Email Submission
You may attach all necessary documents to an email addressed to admissions@okbu.edu by 11:59 p.m. on the due date.
University Scholars' Weekend
Qualifying candidates will participate in an interview with a panel of OBU representatives. Interviews will be held during University Scholars' Weekend, Friday-Saturday, February 12-13, 2021.
University Scholar Candidates will also be invited to join OBU faculty and staff for a special dinner on Friday, February 12. Additionally, we will recognize all of our candidates on Saturday, February 13 during our University Scholarship Recognition Ceremony.
Close to Qualifying?
For the purpose of qualification, Admissions will accept OBU Residual ACT scores through January 12. Contact the OBU Testing Center to reserve your spot for a Residual date at 405.585.5080.
---
University Scholar candidates should submit the FAFSA to OBU by February 1, 2021 in order to minimize your out-of-pocket cost for tuition, fees, room, and board.
OBU's University Scholarship is limited to 16 hours per semester for eight semesters or until completion of degree. This scholarship is not applicable to tuition for January or summer terms.